Comedy of Social Media Errors: Pharma's Lame Take on Glee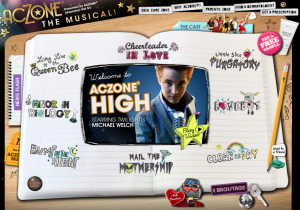 With nearly 600 million people on Facebook, 175 million on Twitter, and 75 percent of the worlds 2 billion internet users accessing social media of some sort, you might not think that the internet's social spaces are that difficult to navigate. Businesses like Wellness Layers have further honed the marketing potential of the social media space by creating "social media ecosystems" that allow customers to build relationships with a brand that translate into higher sales figures, and engaged consumers.
The pharmaceutical industry, however, has not been able to figure out what the 6 million 'tweens following Justin Bieber on Twitter have already absorbed into their DNA: How to work this thing called social media.
A wonderfully cringe-inducing example are the efforts to market Allergan's acne medicine Aczone. This prescription product contains dapsone,  originally used to treat leprosy. Seeing the traction that shows such as Glee and High School Musical have had among their pimple-prone target market, Allergan employed the marketing firm Indelible to create an online musical promoting their product. The result is a freakish high-school themed musical production featuring one of the stars of the Twilight series, and song-and-dance routines such as "Cheerleader in Love." Youngsters suffering from acne, or who jut want to see their drug-pusher shake pom-poms, are introduced to cast members including the fetching blond Amber, "your classic bubble-headed cheerleader who has always gotten what she wants by letting her poms poms do the talking." Err, yeah, that's just the character I want my daughter singing with.
To make matters worse, when this author accessed the site, links to potentially helpful sites such as "Find a Dermatologist," "Get a Prescription," "Skin Care Zone" and of course the "Parent's Zone" didn't work. I couldn't even claim my free sample because of the dead links. Darn.
In an interview, an Indelible exec says that "ACZONE: THE MUSICAL was an exceptional mix of originally produced glam rock with dazzling motion graphics and first-class choreography."
But is it a good way to market medicines to kids, or even build a relationship? Is this the way that pharma should be using applying social media or the internet? Or should they pack up, regroup and talk with real experts like the folks at Wellness Layers who seem to have a much more authentic approach.
Check it out (if you dare) by going to Aczone the Musical, and let me know what you think.
Photo credit: Aczone the Musical