CSR and Sweatshops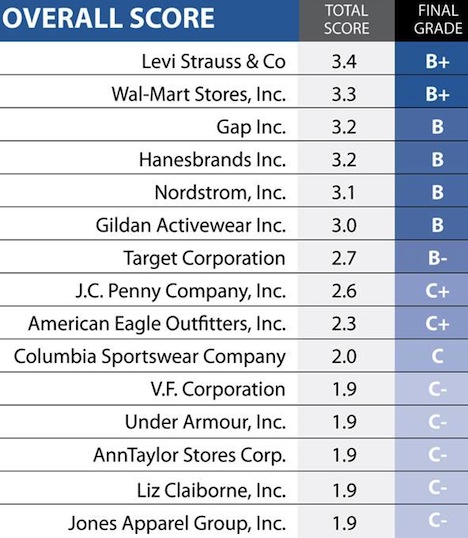 One of the biggest CSR hurdles for an apparel manufacturer is the integrity of their manufacturing unit. Accusations of sweatshops have been a long time coming. A decade ago,  sweatshop conditions in the global supply chains of numerous apparel manufacturers were under fire. Apparel brands adopted vendor codes of conduct to avoid risks but it has never been clear which brands have adopted policies and taken action to address the issue. As You Sow, which is a corporate responsibility group recently released a new report on apparel supply chain compliance. The leaders for fair working conditions were graded on various factors including factory auditing, remediation, continuous improvement, collaboration, company management accountability, and transparency.
The report entitled ""Toward a Safe, Just Workplace: Apparel Supply Chain Compliance Programs" provides comparable data by which to evaluate the CSR programs of major US apparel companies.
According to the report's executive summary, the survey was circulated to 33 of the largest apparel brands and retailers by market capitalization traded on U.S. bond and equity exchanges, 15 of which responded. Five of those companies based their responses on their apparel business, while the other companies based them on their entire supply chain and estimated what percentage of that was devoted to apparel. The survey results indicate that many of the companies allocate substantial human and financial resources to ensure compliance with and implementation of codes of conduct.
Levi Strauss & Co. and Wal-Mart Stores, Inc. received the highest grade of "B+," with the lowest grade, "C-", given to V.F. Corporation, Under Armour, Inc., AnnTaylor Stores Corp., Liz Claiborne, Inc., and Jones Apparel Group, Inc. Among the 18 companies that didn't respond were Guess? Inc., Foot Locker Inc., Kohl's Corporation, Macy's Inc., Polo Ralph Lauren Corporation, Coach Inc., and Urban Outfitter, Inc.
As the market for green apparel grows, companies that do not use fair methods of work standards and compliance to international norms of labour rights will slowly find themselves sidelined. Based on the survey results, As You Sow recommends various methods by which apparel companies can improve their CSR:
Companies need to devote more resources into continuous improvement to prevent non-compliance issues from recurring
There needs to be more initiatives that empower workers. According to the report "Companies may stipulate in their codes that workers have a right to freely associate and join unions, but do business in countries where these rights are neither assured nor enforced"
Companies should "integrate factory compliance performance into compensation for staff, including senior executives"
Companies should analyse their purchasing practices to understand if internal policies are increasing compliance violations
More sophisticated systems to track the resolution and recurrence of compliance must be implemented
Increase of "detailed public reporting on specific supply chain audit findings and remediation actions" needs to be undertaken
The report finally emphasizes the need for transparency stating that, "transparency is a core attribute of corporate social responsibility and the apparel industry needs significantly improve its disclosure."
What surprises me is that in the 24 pages of the report, there is not one mention of Nike. The survey however, addresses some very important CSR issues. This is not something that can be ignored.
Photo: As You Sow