Deforestation Slows in Brazil, But Concerns Persist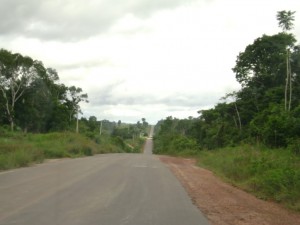 Recent data released by the Brazilian government indicates that deforestation has decreased by 23 percent between August 2011 and July 2012. Satellite imagery from Brazil's National Space Research Institute (INPE) showed a decrease in deforestation rates in key states, particularly in Amazonas and Pará in the north of the country. The images indicate that an area of 2,049 square kilometers of forests have been cleared during this period.
"This is a great result, which makes us want to work even harder to tackle illegal deforestation," said Environment Minister Izabella Teixeira. She stressed that data from INPE's DETER (Real Time Detection System) is mainly used to analyze trends in deforestation, explaining that consolidated annual rates are measured by a different system, with preliminary results traditionally announced at the end of each year.
The new data also indicates a marked decrease in deforestation in the critical states of Amazonas (45 percent) and Pará (42 percent) during the same period, while a 218 percent increase was registered in the northern state of Roraima.
"Lasting reduction in deforestation requires more than enforcement and control. This is why the Ministry of Science and Technology is working on a strategy for a new economic model for the Amazon," said Dr. Carlos Nobre, Secretary for Research and Development Policies and Programs at the Ministry of Science and Technology.
Dr. Nobre announced that around R$100 million (US$ 48 million) from the Amazon Fund will be made available in the coming weeks to support innovative projects utilizing sustainable resources in the Amazon. He also noted that the Ministry is working in partnership with the Brazilian Agricultural Research Company (Embrapa) to develop new standards for sustainable agriculture with a focus on productivity gains.
Curbing deforestation is crucial for Brazil to meet its emissions targets since it is from forest clearing that most CO2 produced by the country comes from. However, a recent change in the country's Forest Code, a piece of legislation that regulates forest coverage on private properties, threatens the country's ability to keep it in check. Environmentalists say the new code will lead to forest loss equivalent to 47 million football pitches.
Image credit: Energy Refuge