Democracy in Libya can Contribute to a More Sustainable Planet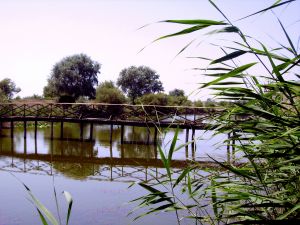 Colonel Moammar Gaddafi's single-handed control of Libya has resulted in serious environmental repercussions for Africa and Middle East. At first it was his gigantic multi-billion dollar project of building a Great Manmade River that has led to severe economic and environmental costs for the region as a whole. Many global analysts have termed that project as Gaddafi's "monument to vanity" that does not make sense in a country which is 95 percent desert according to the UNDP.
Now Col. Gaddafi has launched another massive agricultural project that effectively threatens Africa's thriving Niger delta in Mali. The inland Niger delta of Mali has rich biodiversity and provides livelihood for more than one million local fishermen and farmers in the region. This unique and hugely productive wetland ecosystem on the edge of Sahara desert is now threatened by an agreement between Col. Gaddafi and the President of Mali that intends to divert water from Niger River for extensive upstream irrigation in the Libyan Desert region.
Environmental experts are of the opinion that this grand plan is designed to suck the river dry that feeds the delta, jeopardizing the livelihood of Malian population that is dependent on fishery and agriculture. Niger delta is laced with marshes and rivers, and spreads 250 miles across Mali. Some of the most magnificent wildlife in the region is also dependent on this delta for survival.
Analysts in the region believe that this reckless move of Libya that is likely to devastate Malian ecosystem is the result of a secretive agreement between Mali's president, Amadou Toumani Toure and Col. Gaddafi of Libya. The sweeping agreement hands over the land to Libya for the next 50 years and gives Libya undisclosed rights to the region's water. The delta is a precious green resource on the edge of the Sahara, and also serves as wintering ground for millions of migratory birds from Europe. All this now stands threatened because the Malian president has signed away effective control of the region's water to Libya.
These are some of the perils when exclusive powers to run a nation are vested in a single man. In that sense, a wake-up call to democracy in countries such as Egypt and Libya is very healthy for the planet's sustainable future. It is a great first step towards a more open, fair and sustainable world in general, and Africa and Middle East in particular. The planet's limited green resources and regional ecological balances need to be preserved by responsible governments.
Photo Credit: gabixmas