Does Apple Want a Bite of the Wind Power Market?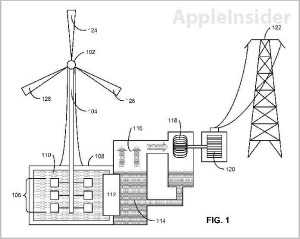 Apple has revolutionized digital communications and now it seems it's looking to work its magic on sustainable energy as well. According to several media reports, back in June 2011 Apple filed an application with the U.S. Patent and Trademark Office containing details of an alternative wind turbine design that generates electricity from converting heat energy instead of rotational energy made possible by the movement of blades.
That would be a major departure in terms of wind turbine design, which needs wind power to turn the unit's rotors and then convert this type of kinetic power into electricity. Apple's technology is a game-changer in that the energy created by its proposed turbine is use to generate heat, which is then stored in "low heat capacity" fluid, writes Smart Planet. The energy stored is then transferred into a working fluid which creates steam, which would replace electricity in order to power mechanisms or generators. Apple calls its system "on-demand generation of electricity from stored wind energy".
Apple's proposed technology theoretically overcomes one of wind energy's biggest hurdles: irregularity. Wind power's intermittency interferes with on-demand generation of electricity, therefore finding ways to regulate supply is essential to incorporate wind into the grid more reliably and efficiently.
Apple is not alone in its reported quest to make wind power more reliable; other companies are working on storage solutions as well. North American Wind Power reports that Invenergy and Xtreme Power have launched a joint venture to deploy an energy-storage system at Invenergy's Grand Ridge Wind project site in La Salle County, Illinois.
The system will supply clean, renewable power to the new frequency response market administered by regional transmission organization PJM. The company says that efficient frequency regulation is vital for PJM's grid reliability.
Xtreme Power's solution is a 1.5 MW Regulation Power Management system that will deploy a lithium-titanate battery and an AGC signal to harness full four-quadrant power in less than one second.
"With the wind industry developing innovative solutions for the future, we're excited to lead the way by investing in cutting-edge storage technology for grid stability," said Jim Shield, Chief Development Officer at Invenergy, North America's largest independent wind power generation company.
Last year, Energy Collective reported that AES Corporation, a global power project developer, had built a wind farm of more than 60 turbines spread across twelve miles of West Virginia's Laurel Mountains.
The farm generates enough power for 20,000 homes, and also feeds power into the PJM Interconnection regional grid. The farm features a series of white shipping containers, nondescriptly nestled into the hills, containing 1.3 million lithium ion batteries. Each battery is about the size of a typical C or D cell, and together they provide frequency regulation to the grid. Grid operators at PJM send signals to the battery system every four seconds, telling it to either send the electricity generated by the wind farm onto the grid, or store it for later use when the wind isn't blowing.
Image source: Smart Planet