Earth, Inc.: Will Corporate Monopolies Dominate the Green Economy?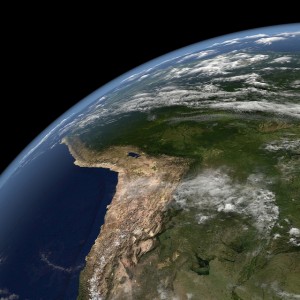 Rio+20 may launch the "biggest Earth grab in 500 years," argues new report
As we get closer to the United Nations Conference on Sustainable Development in June 2012 in Rio de Janeiro, Brazil (also known as "Rio+20" to mark the 20th anniversary of the 1992 Earth Summit), the chatter about the "green economy" is increasing.
From biodiversity investments to decoupling, from the production tax credit (PTC) to sustainable cities, from REDD+ to C2C, the phrase "green economy" has come to include a host of practices, approaches, philosophies and technologies that are meant to be more responsible in regard to the present and future health of the planet and its inhabitants.
WHAT DOES A GREEN ECONOMY LOOK LIKE?
For the purposes of their Green Economy Initiative, the United Nations Environment Programme (UNEP) defines a green economy as one that "results in improved human well-being and social equity, while significantly reducing environmental risks and ecological scarcities. In its simplest expression, a green economy can be thought of as one which is low carbon, resource efficient and socially inclusive...one whose growth in income and employment is driven by public and private investments that reduce carbon emissions and pollution, enhance energy and resource efficiency, and prevent the loss of biodiversity and ecosystem services."
In addition to helping maintain biodiversity and all the services that healthy ecosystems provide humanity, a green economy will help to mitigate the effects of climate change by speeding the transition from a fossil fuel-based economy to a low carbon economy (LCE). And it will also help solve some of the world's most intractable and persistent problems fueled by human overpopulation, such as food security, water security, resource security, poverty, land degradation and an increase in warfare.
I SMELL BIOMASS: HERE COMES THE GREEN CORPORATE GIANT
But how will this green economy -- whether local, regional or global in scale -- ultimately manifest itself? Much innovation of course happens on a small, entrepreneurial level. But once start-up innovators launch a big idea, it doesn't take long for established big businesses to get in on the action, for better or worse. ETC Group (the Action Group on Erosion, Technology and Conservation) has recently warned that the world's biggest corporations are "riding the coattails of the 'Green Economy' while gearing up for their boldest coup to-date -- not just by making strategic acquisitions and tapping new markets, but also by penetrating new industrial sectors."
According to a report issued last month by the Canadian NGO, "The world's largest companies are converging around biomass in anticipation of a post-petrochemical future. That doesn't mean they're simply grabbing land and natural resources; they're also investing in new technology platforms to transform plant-derived sugars (from food and fibre crops, algae, all kinds of plant matter) into industrial products. The gravitational pull of biomass is creating new constellations of corporate convergence across diverse industry sectors."
PREPARING FOR A POST-PETROLEUM WORLD
The group argues that the green economy will be monopolized by the likes of BP, Shell, Procter & Gamble, DuPont, Dow Chemical, Unilever and Chevron. These companies have partnered with small, entrepreneurial firms on the cutting edge of sustainable solutions or have started joint ventures to produce cellulosic ethanol, algae-based food ingredients and other biomass-based products in preparation for a post-petroleum world.
In an era that has been defined in part by a growing public distrust of corporate power, these developments are emerging as a cause of concern. "New, more socially and ecologically sustainable economic models are needed to safeguard the integrity of planetary systems for our and future generations," asserts the report. "Authoritative and innovative anti-trust mechanisms (that do not currently exist) must be created to rein in corporate power."
RIO+20: THE BIGGEST EARTH GRAB IN 500 YEARS?
"While seductive, the new green techno-fixes are dangerous because they will spur even greater convergence and concentration of corporate power and unleash privately owned technologies into communities that have not been consulted about -- or prepared for -- their impacts," warns ETC Group. "If the 'Green Economy' is imposed without full intergovernmental debate and extensive involvement from peoples' organizations and civil society, risks becoming the biggest Earth Grab in more than 500 years."
The public sector cannot manage sustainable development alone. The private sector must play a large role, particularly in financing such expensive initiatives as REDD+ and the Green Climate Fund. But the implementation of better corporate governance and the nurturing of democratic debate must also parallel the transformation to a green economy. As delegates prepare for Rio+20, they would do well to consider the words of President Theodore Roosevelt, a staunch conservationist who protected some 230 million acres of public land during his time in the White House: "To befoul the unholy alliance between corrupt business and corrupt politics is the first task of the statesmanship of the day."
###
NOTES
United Nations Environment Programme. What is the "Green Economy?" About GEI, UNEP, December 2010.
ETC Group. Who Will Control the Green Economy? New report on Corporate Concentration in the Life Industries. December 2011.
ETC Group. Who Will Control the Green Economy? December 2011.
Ibid.
Ibid., 2.
image: stef thomas, Creative Commons