eBay's Charity Arm Recognized at Socially Responsible Awards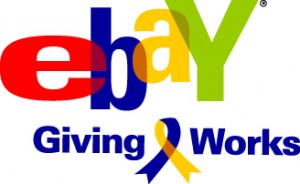 Actress Carey Mulligan's glittering gold Prada dress that she wore to a celebrity event in New York on Monday has become charity news. That is because yesterday her dress was listed on eBay and the proceeds will be donated to Oxfam, an international relief agency. The celebrity-worn dress can be bidden on until the 19th of May.
This story illustrates how one of the biggest internet companies in the world can empower consumers to engage in socially responsible deeds with a few clicks on their computer mouse. eBay is one of the most popular websites in the world, a consumer-to-consumer online shopping hub that, since its foundation in 1995, has become a $11 billion-per-year empire, according to 2011 statistics.
Perhaps a little lesser known than eBay's reputation as the world's online marketplace is the amount of philanthropic work that the organization does, which was recognized at the recent Social Innovation Awards in Boston presented by Just Means at the CERES conference, where eBay was a finalist.
eBay has a charity fundraising platform called Giving Works, which since 2003 has raised a whopping $278 million for US and UK charities. As we speak, Giving Works features around 834, 417 items marked to help organizations who work to make the world a better place.
There are several socially responsible causes that shoppers can help simply by bidding on or buying items with a blue and yellow ribbon, which is the case with Carey Mulligan's dress. Sellers can donate a percentage of their listings final sale price to a non-profit of their choice, or the full amount paid for item (which is what Ms. Mulligan is doing). A third alternative is to simply donate using a PayPal account to any cause or organization.
Environment, animals, breast cancer, education, children and families, poverty, the military, HIV/AIDS and developing entrepreneurs are the causes from which shoppers can choose to support. Nonprofits themselves can also sell their own items to raise funds for their missions. Another non-profit called MissionFish, which helps other nonprofits to raise funds online, is in charge of delivering the donations to the intended nonprofit.
Any qualifying organization can apply to join the program. MissionFish will verify their status as a nonprofit with documents the organizations need to provide. For now, the service is only available to nonprofits in the US and the UK, where Giving Works is called eBay for Charity. But sellers anywhere in the world can list items and donate to charities in those two countries, which besides being a socially responsible thing to do, is also sustainable. After all, what better way to re-use goods than to turn them into financial support for socially responsible enterprises?
Image credit: Ebay