Edanoru: What Executives Can Learn from Japan's Earthquake Response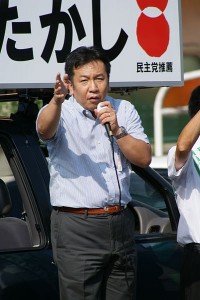 Yukio Edano, Japan's Chief Cabinet Secretary, has been the government's public face since the 9.0-magnitude earthquake rocked the nation on March 11, holding an average of five daily televised briefings, according to John Brinsley of Bloomberg Businessweek.
TWEET TO EDANO: GET SOME SLEEP
Secretary Edano's strong commitment to keeping the public informed about the radiation threat and the recovery effort has been widely hailed. Brinsley said that the 46-year-old member of the DPJ party "embodies Kan's strategy of transparency."
"He is truly giving everything he can as the government's spokesman," said Hirotada Asakawa, an independent Tokyo-based political analyst, in the Businessweek article.
"Every day, several times a day, he's up there in front of the press. Whenever the post-Kan era begins, he'll be a candidate to replace him."
Brinsley noted the creation of a new word about Edano's exemplary performance that has been spreading through the Twitterverse: "Edanoru," a term that turns Edano's name into a verb by adding the -ru suffix.
Ben Schott later referred to it on his New York Times column of neologisms, Schott's Vocab, noting that Twitterers were using the term in "extolling the virtues" of Edano.
According to one Twitter user, Edanoru means not sleeping and working too hard. Twitterers are concerned for Edano's health; many have asked him to get some shuteye.
BAD CRISIS MANAGEMENT CASE STUDY: BP'S TONY HAYWARD
Edano's commendable crisis management style stands in stark contrast to that of BP's former chief executive Tony Hayward following last year's Deepwater Horizon oil spill in the Gulf of Mexico.
In the midst of that disaster, while oil was still spewing into Gulf, Hayward took time off so he could watch his yacht "Bob" compete in the J.P. Morgan Asset Management Round the Island Race at the Isle of Wight in the English Channel.
Unsurprisingly, that decision became a public relations disaster. Hayward was roundly criticized for -- as Associated Press reporter Raphael Satter put it -- "hobnobbing with millionaires and their yachts" instead of helping the Gulf, which was "struggling to deal with up to 120 million gallons of oil that have escaped from the blown-out well...washing up along the Gulf Coast from Louisiana to Florida, killing birds and fish, coating delicate marshes and wetlands and covering pristine beaches with tar balls."
Hayward had previously complained about how much time the disaster was taking away from his schedule, saying he wished he could have his "life back." White House Chief of Staff Rahm Emanuel lambasted the Brit business exec, saying that it was just another in a "long line of PR gaffes," adding, "He's got his life back, as he would say."
Twitter and Facebook users slammed Hayward for his lack of responsibility. Thirty-nine days after his yacht race, he was replaced by Bob Dudley.
GOOD CSR = GOOD CRISIS MANAGEMENT
Perhaps the difference in crisis management approaches displayed Edano and Hayward has some cultural basis. The Japanese are well-known for their sense of leadership and self-sacrifice. And a culture steeped in social responsibility has been fomented by those twin pillars of Eastern wisdom, Buddhism and Confucianism.
In his essay "Japanese Ethics: Beyond Good and Evil," published in the journal Philosophy East and West, Robert J.J. Wargo noted that "Buddhist concepts of karma and compassion or Confucian notions of propriety and righteousness…are indeed important to a full understanding of Japanese behavior."
That may explain some of it, but maybe Hayward just didn't fully embrace the philosophy of corporate social responsibility. Just two days before his ill-fated yacht-race trip, during his U.S. Senate testimony, he said that he would "pledge as leader of BP that we will not stop until we stop this well." Either he forgot what he said, or he didn't really mean it.
"Crisis management starts well before disaster strikes, not just in the sense that the company must have risk assessments done, response plans in place, tabletops conducted, and drills tested," wrote Marleah Blades last month in Security Magazine.
"If the corporation has a history of acting in a socially responsible way -- caring for people and communities around their sites and those of their supply chain partners – they not only have a better chance of bouncing back from disaster quickly, they will likely suffer less reputational damage during and after the incident."
Some crises, like the BP oil spill, can be avoided. They are the result of human failure. Others, like the earthquake in Japan, cannot. But when those crises happen, companies that have effective corporate social responsibility policies will be better placed to avoid Hayward's missteps and be more familiar with the concept of Edanoru.
Oh, and Hayward's yacht "Bob"? It finished fourth in its group.
image: Yukio Edano speaking in front of Sakado Station, Saitama, Japan, September 10, 2010 (credit: DAJF, Wikimedia Commons)