Emerging Markets, Emergent Women: Breaking the Glass Ceiling in the Developing World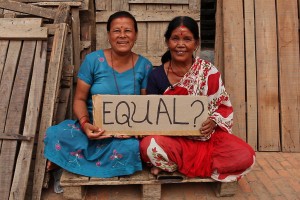 "Great value derives not only from women as leaders, but also from the diversity of thought that women can help provide." -- Sharon Allen, chairman, Deloitte LLP, Deloitte LLP
It is a common refrain: Women make up half of the workforce, but only a fraction of the executives. Even though the United States made gender discrimination in the workplace illegal with the Civil Rights Act of 1964, it remains a pervasive problem.
This week, Catalyst, a non-profit membership organization dedicated to developing womens' opportunities in business, released new statistics on the state of the women in the American workforce. Sadly, the results are unsurprising. According to their research, women make up 46.7 percent of the U.S. workforce, but only 2.8 percent of the Fortune 500 CEOs. But look to the developing world, and the trends look markedly different. In May, Forbes released its "World's Richest Self-Made Women" list. While only 19 of the world's billionaires (just 1.6 percent) are self-made women, of the 19, nine are from the developing world: seven from China, one from Russia and one from Brazil. Across the developing world, a trend is gaining steam: In emerging markets, women are emergent.
SISTERS ARE DOIN' IT FOR THEMSELVES
A recent article in The Economist notes that "In China, 32% of senior managers are female, compared with 23% in America and 19% in Britain. In India, 11% of chief executives of large companies are female, compared with 3% of Fortune 500 bosses in America and 3% of FTSE 100 bosses in Britain. Turkey and Brazil come third and joint fourth (behind Finland and Norway) in the World Economic Forum's ranking of countries by the proportion of CEOs who are women. In Brazil, 11% of chief executives and 30% of senior executives are women."
In January, Deloitte Touche Tohmatsu released the report "The Gender Dividend: Making the Business Case for Investing in Women," which found that "women's earning power is growing even faster in developing countries, where their earned income grew at a rate of 8.1 percent, compared to the 5.8 percent rate for men," concluding that "women constitute the largest emerging market the world has ever seen."
RECESSION-FIGHTERS: COUNTING ON THE NEW POWER OF WOMEN
Perhaps these figures bode well for next Fellows Program of the International Women's Forum (IWF), a year-long leadership training program that launches next month and involves the participation of a select group of 35 women from 14 nations representing the corporate, government, academic and non-profit sectors. A non-profit organization based in Washington, DC, the IWF Leadership Foundation was founded in 1990 to promote female leadership around the world and currently has almost 5,000 women leaders from 24 countries, including US Secretary of State Hillary Clinton, US Secretary of Homeland Security Janet Napolitano, former US Secretary of State Madeleine Albright, former NASA astronaut Sally Ride, Queen Rania Al Abdullah of Jordan, president of Boeing Germany Lianne Stein and CEO of HSBC India Naina Lal Kidwai. According to IWF, the Fellows Program is "the only leadership training of its kind in the world designed for high potential women of ethnic, professional and geographic diversity who have the potential to become tomorrow's women chief executive officers and principal leaders."
Of the incoming fellows, eight are from emerging markets: Irene Agunloye, Professor of African Drama and Director of the Centre for Women & Gender Studies at the University of Jos, Nigeria; Elsie Effah Kaufmann, Senior Lecturer and Head of Biomedical Engineering at the University of Ghana; Lillian Karuri-Magero, Head of Technology Sourcing at Eskom Holdings, South Africa; Natasha Pheiffer, Director of Communications and Corporate Responsibility at BAE Systems, South Africa; Helen (Peng) Ren, Director of the General Counsel Division at Credit Suisse AG, Shanghai Branch, China; María Bernadette Sandoval, Associate Director of Consumer & Market Knowledge at Procter & Gamble, Mexico; Heidi Storsberg, Director General of Educational Television System, Mexico; and Sania Yau, Chief Executive Officer of the New Life Psychiatric Rehabilitation Association, Hong Kong.
Could all this female potential be a key to righting the global economic ship? According to Sylvia Ann Hewlett and Ripa Rashid, co-authors of the book Winning the War for Talent in Emerging Markets: Why Women Are the Solution, which was published last month by Harvard Business Press, the answer is a resounding yes. "With rolling debt crises blasting Western economies already weakened by the recession, hopes are resting on the developing market dynamos of Brazil, Russia, India and China to power countries and corporations back to growth," the authors state in a guest CNBC blog post. "Keeping those engines humming is due, to a greater and greater extent, to the new power of women."
###
NOTES
http://www.deloitte.com/assets/Dcom-Greece/dttl_ps_genderdividend_130111.pdf
http://www.catalyst.org/publication/132/us-women-in-business
http://www.forbes.com/forbes/2011/0523/focus-winfrey-fisher-hendricks-whitman-wynn-self-made.html
http://www.economist.com/node/21526872
Ibid., 1.
http://www.iwforum.org/leadership_foundation.aspx
http://www.cnbc.com/id/44425763
image: Women in Nepal (credit: World Bank Photo Collection, Flickr Creative Commons)