Experts Converge In Amsterdam To Discuss Water Sustainability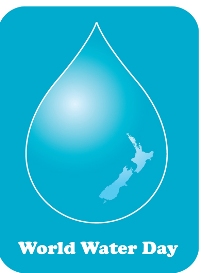 It may not have entered mainstream eco-parlance as much as carbon emissions, renewable energy and climate change, but water sustainability is fast becoming a hot environmental topic.
The UN has been celebrating Water World Day on March 22nd for a few years now. It pinpoints urbanization in developing countries as a major cause of concern. Urbanization is happening without proper infrastructure and management of urban water and waste is non-adequate or non-existing. "Piped water coverage is declining in many settings, and the poor people get the worst services, yet paying the highest water prices," the UN says.
Climate change will also have a significant impact on water resources, both in terms of quantity and quality, mainly because of the increasing regularity of floods, droughts and extreme weather events.
All of this will have an impact on water-intensive industries, which are looking at ways to decrease their water footprint in a sustainable way. Since Saturday, professionals from those industries have converged in Amsterdam for the International Water Week, which goes on until Friday November 4th.
They include representative from sectors such as pulp and paper, food, beverages and chemical industries who are discussing water shortages, increasingly strict effluent standards, sustainability, water footprint management and water recycling.
The event is organized by the Royal Netherlands Water Network (KNW) and Waternet together with Amsterdam RAI, the International Water Association and the Netherlands Water Partnership.
One of the highlights of event is the Industrial Leaders Forum, which will take place on Thursday 3rd. Companies such as DSM, Shell, Rabobank and Unilever will be present. It is the first time these global companies will come together with the water industry to discuss how to make the best and most efficient use of available water resources in the years leading up to 2030, how to treat water in the production process, and how to deal with waste water and the re-use of water.
The solutions of the panel discussion will be taken to the next International Water Week to ensure that the manufacturing industry can work with the water sector to signal ways forward to a sustainable future and to closing the water cycle in the long run.
Today (November 1st) and the day the after experts will gather for the third edition of the international Aquaterra conference to discuss ways of strengthening vulnerable and densely populated delta areas. One of the deltas on the agenda is the Rhine, where an international basin-specific approach has been highly successful in improving water quality and responding to climate adaptation.
Four decades ago the Rhine was Europe's most polluted river. Thanks to a raft of international agreements the Rhine states succeeded in cleaning the river completely within twenty years. The international basin-specific approach taken has become a leading example globally and river authorities from around the world regularly visit the International Commission for the Protection of the Rhine to leverage its knowhow. In addition to improving water quality, the Rhine delta is also a global leader when it comes to climate adaptation. The conference will focus especially on future-oriented studies into the drainage capacity required in the long term.
River deltas are highly complex areas, often with economically important ports, intensive agriculture and very large cities. Climate change has put an extra spotlight on these areas, as they will be the first regions to be affected by rising sea levels and changing precipitation patterns. Participants at Aquaterra 2011 will focus mainly on how to strengthen river deltas to make them climate-proof while maintaining economic growth. Eight other deltas will be discussed: Mississippi, Nile, Danube, Ganges/Brahmaputra, Ciliwung, Inkomati, Mekong and Yangtze Pearl.
Another conference will focus on opportunities and risks relevant to water in an urban environment, mainly the latest developments in terms of building on and close to water in cities, and how the urban environment will evolve in the future. The conference program will also examine opportunities provided by innovation in water technology, which is vital for many of the major challenges the world faces today, such as ageing infrastructures and resource shortages.
Water as a source of renewable energy will be highlighted in a separate conference, which will present and discuss solutions and business concepts for cities, industrial zones and rural areas.
Image credit: Oxfam/NZ