Eye on the Prize: Building the Next Generation of Savvy Investors, One Girl at a Time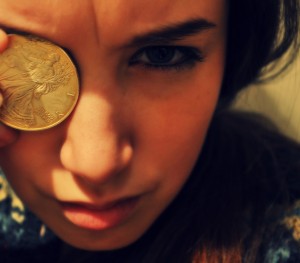 An innovative program by ING and Girls Inc. is challenging the Wall Street "boys club" paradigm by giving girls hands-on investment experience
There is a clear need to educate women in the realm of financial literacy. A recent white paper commissioned by the ING Retirement Research Institute found that women on average are significantly less prepared for retirement than men. "t all ages, women have saved significantly less than men," according to the report. "Younger women have saved just two thirds of men at the same age, and women age 65-69, in those critical pre-retirement years, have still saved just 78% of men the same age."
And since the knowledge gleaned early on is the most vital, the target for such education is girls. As UNESCO Assistant Director-General for Education Nicholas Burnett wrote in the preface to a 2008 UNESCO report on the connection between early education and sustainability, "arly childhood education the first stage of education where the foundation for lifelong learning and development is laid—and its contribution to building a sustainable society."
NATIONAL CHALLENGE SUPPORTS GIRLS' FINANCIAL LITERACY
In 2009, the ING foundation and Girls Inc, a nonprofit girls advocacy group, joined forces to help tackle this problem and launched the ING-Girls Inc. Investment Challenge, an innovative program that not only gives girls between the ages of 12 and 18 hands-on experience in long-term investing, but also allows them to keep their profits in the form of college scholarships, putting them on the path to post-secondary education.
Judy Vredenburgh, president and CEO of Girls Inc., said that the program "serves as a solution for one of the biggest issues facing our youth today—financial literacy," adding, "Exposing the girls to the fundamentals of investing and connections with dedicated mentors, seeing them mature as investors and then reaping the rewards of their commitment to the challenge gives the girls the confidence and skills they need to take charge of their own finances and futures built on higher education and independence."
The program launched in New York City, Denver, and Los Angeles and Alameda counties in California, with teams of 13 to 16 girls who completed eight weekly financial-literacy lessons designed to teach them the fundamentals of saving, investing and financial planning before embarking on a three-year-long investment adventure. It has since expanded to Atlanta, Houston, Washington, D.C., and Holyoke, Massachusetts, with plans to expand across Girls Inc. affiliates in other cities.
EARLY EXPOSURE, EMPOWERED INVESTORS
"The ING-Girls Inc. Investment Challenge will provide the girls with critical, early exposure to the markets and to the fundamentals of investing, but it has also been designed to give them practical, relevant experience with original research, critical thinking and oral argument," said Joyce M. Roché, then-president and CEO of Girls Inc., in 2009. "These are invaluable skills in the classroom and workplace alike."
Each group invests with $20,000 virtual portfolios, supplemented monthly throughout the year until each team has received a total of $50,000. And while the initial investment portfolio fund is virtual, their gains are not: Each eligible participant receive two-thirds of the investment gains in the form of Girls Inc. scholarships for post-secondary education, while the remaining one-third goes to support local programming for the local Girls Inc. affiliate. The $50,000 principal is then recycled for use by the incoming team. It's truly a sustainable investment.
BIG CHECK: REAPING THE REWARDS
On July 27, the team in Alameda celebrated their successful completion of the program during a Girls Inc. annual event where they were given a "big check" from the ING Foundation for $15,500, the gains from the initial $50,000 virtual portfolio that the girls managed during the past three years. Brandishing a 31 percent overall gain, the girls are well-poised to take the market by storm, all on their own. Celebratory events for all of the initial challenge teams in Alameda, Denver, Los Angeles and New York have been planned. "I enjoyed learning about how to make the right investment decisions because it will be very useful in the future when I am investing my own money," said Elizabeth, a participant from the New York team.
"The earlier we can engage girls in the capital markets, the more likely we will be able to grow a generation of smart, empowered investors," said Rhonda Mims, president of the ING Foundation and senior vice president of ING's Office of Corporate Responsibility and Multicultural Affairs. "But it's hard to make investing meaningful when you have nothing to invest in the first place. For many young people, the stock market might just as well be in another galaxy. That's why we think the investment challenge is so powerful; girls are not just observers of the stock market but participants, who will, presumably, reap the economic rewards of their efforts."
GREATER INCLUSION, GREATER ROI
For all involved, it's a win-win-win situation that requires little up-front investment, but has huge returns, returns that keep on giving in other ways. In a joint statement issued on the occasion of World Teachers' Day on October 5, UNESCO, UNDP, UNICEF, the International Labor Organization (ILO) and Education International asserted: "Educating girls and women has cascading benefits for human development: fewer deaths in childbirth; more healthy babies; more children in school; better protection for children and women from HIV and AIDS, trafficking and sexual exploitation; and the economic and political empowerment of women, leading to stronger and more inclusive development."
And while many social programs have focused on most of the aforementioned issues, there have been few, if any, that target financial literacy among girls in particular. Sure, finance's glass ceiling has been broken by such women as Christine Lagarde, President, International Monetary Fund; Abigail Johnson, President, Fidelity Personal, Workplace and Institutional Services; Barbara Byrne, Vice Chair, Investment Banking, Barclays Capital; Ruth Porat, Chief Financial Officer, Morgan Stanley; and Teresa Ressel, CEO, UBS Securities, to name a few, but the reins of the financial world are still held largely by men.
For the average woman who is not working in finance, managing a stock portfolio may not be on the top of the to-do list. But thanks to the innovative and sustainable ING-Girls Inc. Investment Challenge, more of today's girls will grow up to be smart financial thinkers—whether or not they aspire to be the next head of the IMF. This kind of cross-sector collaboration not only promotes gender equality, but also supports an economic inclusion that benefits society at large. As the Chicago Council on Global Affairs pointed out in their excellent and eye-opening 2011 report Girls Grow, "returns to female secondary education are estimated to be in the 15 to 25 percent range, a higher rate of return than for men." While their study focused only on rural economies, it's clear that educating a girl has a high ROI, an acronym whose meaning—in a more fair and inclusive society—every girl would know.
###
NOTES
ING U.S. What About Women (and Retirement)? May 5, 2012. Accessed August 23, 2012.
UNESCO. The Contribution of Early Childhood Education to a Sustainable Society. November 29, 2008. Accessed August 23, 2012.
ING U.S. ING Foundation Awards College Scholarships to Girls Inc. Young Investors. May 31, 2012. Accessed August 23, 2012.
Girls Inc. ING Foundation and Girls Inc. Launch Innovative Investment Challenge for Girls Ages 12-18. February 12, 2009. Accessed August 23, 2012.
3BL Media. ING-Girls Inc. Investment Challenge Empowers Young Girls to Become Smart Investors. August 15, 2012. Accessed August 23, 2012.
Ibid., 3.
Ibid., 4.
United Nations Girls' Education Initiative. Joint Message from UNESCO, UNDP, UNICEF, ILO and Education International on the occasion of World Teachers' Day, 5 October 2011. October 5, 2011. Accessed August 23, 2012.
American Banker. The 25 Most Powerful Women in Finance. September 25, 2011. Accessed August 23, 2012.
Chicago Council on Global Affairs. Girls Grow: A Vital Force in Rural Economies. October 7, 2011. Accessed August 23, 2012.
image: AJU_photography (Flickr Creative Commons)