Farmer's Almanac 2.0: Google To Insure Against Extreme Weather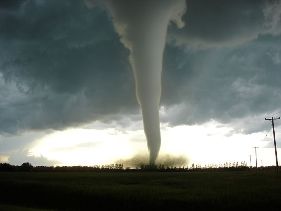 Google is getting into the insurance business.
Earlier this week, it was announced that Google, through their Google Ventures division, is joining a group of venture capital firms in providing $42 million in Series B funding to WeatherBill, a technology company that enables real-time pricing and purchasing of customizable weather insurance using a proprietary modeling system.  WeatherBill was co-founded in 2007 by David Friedberg and Siraj Khaliq, two former Google employees.
The Series B funding, which in venture capital terms simply means the second round of external financing, will be used to expand WeatherBill's product and sales expansion in the US and abroad.
WeatherBill offers a pretty unique approach to insuring farmers against crop loss caused by increasingly extreme weather patterns brought on by climate change.  Through their Total Weather Insurance product, which is designed to provide excess coverage beyond Federal Crop Insurance, farmers can buy insurance to protect their crops against drought, frost, heat stress and excessive rainfall.  And unlike Federal Crop Insurance, which requires reporting verification and inspections prior to claim payouts, WeatherBill will pay insured farmers as soon as the bad weather strikes, without any claims to file or adjusters to visit the farm (payouts are sent automatically, within 10 days of the end of the policy period).
So how can WeatherBill pay for a loss without claim paperwork or a visit to the farm where the crop damage occurred?  Because, unlike Federal Crop Insurance or an insurance policy issued by a private carrier, WeatherBill isn't insuring the underlying crops or farms, they are only insuring against certain measurable weather conditions that adversely impact crops.
By mining historical weather data made available by data resource centers like Google, WeatherBill runs probabilistic computing algorithms to determine the probability of a certain weather phenomena (like drought) occurring in a specific geographical location (Wellington, Kansas, for example).  The algorithm then determines what premium amount will be necessary to insure against the particular weather phenomena while still providing WeatherBill with a tidy profit, even if they end up needing to payout on a loss.
Since WeatherBill is only concerned about the data (52 consecutive days without measurable rain in July and August in Wellington, Kansas) and not the actual losses suffered to the farmer's crops, they don't need to hire adjusters and claims administrators to visit the farm and process the paperwork.  If, according to their data, a drought has occurred, then that Wellington farmer will be paid out on that drought insurance, regardless of the level of damage to his crops.
It's a unique and very Google-way of doing what they do best (gathering and analyzing data) and using it to tackle real world problems (addressing the impact of climate change on the agricultural industry).
That said, the business prospects for WeatherBill rest entirely on the accuracy of its algorithmic modeling platform.  Since neither of the founders (or any of the key people at the company, for that matter) have experience in the insurance industry, one has to wonder if they possess the underwriting chops necessary to thrive at this type of venture.  As an investor, I'd be concerned how the modeling software will hold up if/when a weather-related "Black Swan" event occurred, like a mega drought.
But, as the folks at Google have demonstrated time and again, doubt their ability to succeed in new ventures at your peril.
Image Credit: Justin Hobson