FedEx Canada helps deliver disaster relief abroad and community cheer at home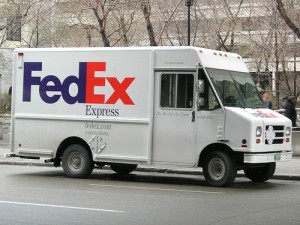 By: Meirav Even-Har, Toronto
"To connect the world in responsible and resourceful ways" is the FedEx goal.
As the world's largest express transportation company, FedEx connects organizations and individuals by shipping and receiving goods around the globe. FedEx Canada, like its counterparts in other countries, also uses its existing networks and logistical capacity to help during emergencies, and to give back to the communities where it operates.
FedEx Canada's community relations mission is to "actively support the communities we serve through strategic investment of our people, resources and network." Four have been identified by the company that align with its global priorities:
*  Emergency and Disaster Relief
*  Pedestrian and Child Safety
*  Education
*  Health and Human Services
A brief overview of the community work FedEx Canada has accomplished reveals the company's considerable support for corporate responsibility practices. It demonstrates an ability to have global priorities while still maintaining a local presence. The initiatives are relevant, making a positive contribution to the communities where the company operates, and where employees live and work.
FedEx Canada Partnerships and Achievements
Emergency and Disaster Relief
Through its existing infrastructure of transportation and logistics, FedEx Canada contributes during times of emergency. Together with partners such as United Way International and Heart to Heart International, and along with staff volunteer time, aid is sent to those in need.
Pedestrian and Child Safety:
FedEx recognizes that a big part of its services consists of trucks on the road in communities. Pedestrian safety is a major priority for the company-specifically, the safety of children. While a global program, FedEx Canada supports Safe Kids Canada by funding educational campaigns that teach children about pedestrian safety. Safe Kids Canada also promotes driver awareness of school zone safety, as well helps support creating more walkable communities.
Education
FedEx Canada is a supporter of two programs by Junior Achievement. The Economics of Staying in School for grade eight, and the Diversity in Action program for grades seven to nine. The company provides both financial support and volunteer help by its employees.
Education isn't limited to in-classroom lessons. In 2010, FedEx Canada sponsored 37 schools through the Greening Canada's School Grounds program. According to the 2010 Citizenship Report, "More than 200 volunteers from the company have participated in one of the company's first EarthSmart Outreach programs. The focus is broader than simply planting trees and shrubs. It plants knowledge within students, teaching them the value of energy saving, carbon sequestration and beautification."
Health and Human Services
Through a long-term partnership with ORBIS International, FedEx supports the ORBIS Flying Eye Hospital, which is the world's only fully equipped, state-of-the-art eye surgery and teaching facility; it's housed inside a DC-10 aircraft. The company provides support that aligns with its expertise, which includes: "a maintenance technician who travels with the flying eye hospital, training for volunteer pilots and the shipment of urgently needed medical supplies to program sites all over the world at no charge to ORBIS."
In 2010 4,000 employees volunteered for FedEx Cares Week in 94 cities, amounting to 20,000 hours.
What is unique about the FedEx community relations program is that it is focused and is driven by what the company does best. Employing company resources and knowhow, FedEx Canada employees are able to contribute to their own communities, while also lending a hand to those in need abroad.
###
NOTES
FedEx Canada: Community Relations Overview - CLICK HERE
FedEx Canada: Safe Kids Canada - CLICK HERE
FedEx Global: 2010 Citizenship Report  - CLICK HERE
FedEx Canada: ORBIS  - CLICK HERE
Ibid
FedEx Global: 2010 Citizenship Report - CLICK HERE