Get Your Great Idea Funded: Echoing Green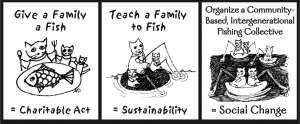 You have two years to change the World. Echoing Green's Fellowship program can give you the funding, mentorship, and toolbox to see your dream for social change through to fruition. All you have to do is win the funding. An easy task if you have what they call a "bold, high-impact solution" that beats out almost 3,000 other applicants globally. With almost $30 million spent on just under 500 entrepreneurs, in 42 countries on 5 continents, Echoing Green is one of the leading social change funders worldwide.
The monetary investment isn't what has set-up these organizations for success. Echoing Green takes a hands-on approach to weeding out their candidates for the true social change ideas that are feasible to begin in two years. They also provide extensive support through training, mentorship, and connections to individuals in various fields. Two out of three EG funded organizations reach sustainability, and 86% hire one or more staff members after the second year of operations. So they fund, guide, and network their Fellows to increase their success rate dramatically.
The goal of Echoing Green isn't just to help social entrepreneurs get a jump-start, it's to create more rapid and sustainable change that can become part of the mainstream. Originally founded in 1987, they aim to "apply entrepreneurial principles to social sector investing." Based on this mindset, Echoing Green frames their Fellows as investments that they continue to nourish, connect, and help grow.
The Genocide Intervention Network, founded by Mark Hanis, sprung from a 2006 Echoing Green Fellowship. It has sent an incredibly powerful message to the World about genocide: it cannot be ignored and should never re-occur. In 2010 it merged with the Save Darfur Coalition, resulting in the largest global anti-genocide organization with 800,000 committed activists worldwide. EG funds ideas across a variety of areas from community development to public health.
Echoing Green accepts applications for the two-year fellowship program every Fall, with $60,000+ available for world-changing ideas.
Get Your Great Idea Funded is a series highlighting Foundations, Institutions, and Think Tanks that fund social entrepreneurship to connect the idea-person with funding sources.
Cartoon: Hawaii's People's Fund