Gildan's Community Investment is about setting roots where it operates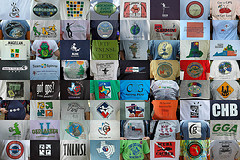 By: Meirav Even-Har, Toronto
Gildan is a leading global company, producing active wear for the Canadian and US screen-print markets, but it's not a household name. It should be. Headquartered in Montreal, once the centre of textile and fashion industry in Canada, with approximately 30,000 employees worldwide, the company has a strong presence in countries such as Honduras, Nicaragua, the Dominican Republic, Bangladesh and Haiti. As a "vertically-integrated manufacturer," Gildan products begin with yarn spinning facilities and include sewing, distribution centres and sales offices. The company has direct control over most of its supply chain, thereby enabling better oversight of the environmental and social performance throughout the manufacturing process.
Gildan has impressive accomplishments in employee engagement (including working conditions), operational sustainability, and sustainable sourcing. However, it is the company's community involvement, which is a story worth sharing. Gildan works as part of the communities where it operates, leaning on employees' knowhow and input to drive projects that aim to elevate quality of life.
Building community relations starts with employees
One of the reasons Gildan has likely seen positive community engagement is due to the common practice of building a local management team. According to the company's website the rationale is quite simple: "We have always placed emphasis on putting in place well-educated and highly motivated local management teams as the most effective way to develop and implement best practices in our manufacturing facilities." Over 60% of global director level and up positions represent local management.
Local management and employees are essential in identifying community needs and therefore Gildan's investment priorities. The company surveys employees to get a better sense of community needs, such as education, health and nutrition, etc. A good example is a program called "Part of your Life," which was established in Nicaragua, early 2011. The program invites Gildan employees to offer ideas for community projects the company can be involved in.
Community strength though the local economy
Gildan's operations do not exist in a silo. Local businesses such as food services and transportation, or local suppliers of button and dyes, are positively impacted. The company tracks its practice of procuring locally. For 2011, local procurement for supplies and services accounted for 85% in Central America, and 80% in the Caribbean region.
Donations and Volunteering
The company's donation policy is mainly aimed to assist the communities where its manufacturing facilities exist - in poor nations such as Honduras. The policy focuses on two main areas: youth education and humanitarian aid. The latter specifically addresses natural disasters. For example, Gildan provided financial assistance to two groups of Honduran farmers repair their houses, damaged by floods. "Gildan donated close to $6,000 which benefitted some
150 people living next to our Río Nance complex," reads the company's Employee and Community Engagement, Q2, FY2012 report.
While the company's offices and distribution centres in the US and Canada boast high employee and community engagement, the work done in regions like Central America is important to highlight. There, employees cannot always contribute funds; the community's needs are a lot more basic and an active role of a large company like Gildan, is crucial to the community.
Learn more! Gildan's Employee and Community Engagement, Q2, FY2012 summary tells the story! Click HERE
###
NOTES
Gildan's corporate citizenship website: http://www.genuinegildan.com/en/
Image: Geocaching T-shirts By BlazerMan (Creative Commons via Flickr)