Grants to Help Remedy Americans' Climate Change Ignorance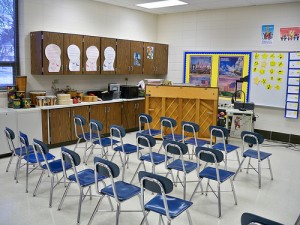 A new grant program announced this week will seek to better educate a relatively unpersuaded American populace about the realities of climate change.
The National Science Foundation (NSF) has announced new grants for community-based educational centers in New York, Philadelphia, Pittsburgh, and Washington D.C. The grants were awarded under the Climate and Urban Systems Partnership, an NSF-funded initiative that seeks to engage urbanites in community-based learning about climate change science.
While consensus in the scientific community overwhelmingly indicates that climate change is occurring due to human activity, Americans lag far behind their Canadian counterparts in their understanding of climate science.
98% of Canadians believe that climate change is occurring, according to a survey released last week by IPAC-CO2 Research Inc., an environmental non-government organization.
"Our survey indicates that Canadians from coast to coast overwhelmingly believe climate change is real and is occurring, at least in part due to human activity," said Dr. Carmen Dybwad, CEO of IPAC-CO2 . "These findings have been consistent from 2011 and 2012. Canadians care about issues like extreme weather, drought and climate change."
In the United States, on the other hand, only 62% of the public thinks that global warming is underway, according to a survey conducted by the National Survey of American Public Opinion on Climate Change. Similarly, a vast majority of Canadians (86%) believe climate change is occurring at least partially due to human activity, compared with only 48% in the United States.
Philadelphia's Franklin Institute, which received $5,882,653 under the NSF grant, will establish Urban Learning Networks in participating American cities to share best practices to improve education concerning climate change.
U.S. Congressman Chaka Fattah (D-PA) was strongly supportive of the grants. "The Franklin Institute is one of our nation's leading scientific and educational museums. It is exactly the right place for a far-reaching program to educate Philadelphians, including school children, about the growing challenges and impending crisis of climate change," said Fattah.
Fattah is the Ranking Democrat on the House subcommittee that oversees over $51 billion in funding for NSF, NASA, neuroscience research, the White House Office of Science and Technology, and the U.S. Departments of Justice and Commerce.
Fattah received a 94% score on his environmental record from the League of Conservation Voters (LCV). This puts him near the top of the most environmentally-friendly members of Congress, according to LCV.
Fattah's record on the environment makes him an outlier in Congress. During last year's legislative session, the House voted 191 times to undermine efforts to protect the environment, thus "amassing the worst environmental record of any Congress in history," according to a House Committee on Energy and Commerce minority report.
"Philadelphians and residents of other cities rely on transportation, water, energy and public health systems that all are vulnerable to climate change," said Fattah. "I commend Franklin Institute for developing this major outreach effort to inform our citizens of this gathering crisis."
Institutions receiving the award include the Franklin Institute, the Columbia University Center for Climate Systems Research, the University of Pittsburgh Learning Research and Development Center, the Carnegie Museum of Natural History, the New York Hall of Science, and the Marian Koshland Science Museum of the National Academy of Sciences. The grant will cover a five year period.
Image credit: Bonnie Brown