Green Dragons and a Business Strategy Summit: Toronto Greenhouse is Gearing Up for a Busy Fall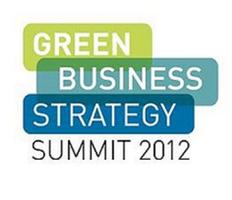 By: Meirav Even-Har, Toronto
Toronto is a busy hub for CSR events each fall. This year is no exception. For Randy Tyrrell, Founder and Managing Director of Toronto Greenhouse, that includes organizing two annual signature events: Green Dragons and Green Business Strategy Summit. Green Dragons, in its fifth year, aims to highlight entrepreneurship and innovation in the green economy, while the Summit will bring both strategic sustainability considerations and implementation to a growing audience. The Summit, like sustainability, Tyrrell notes, has been continuously evolving. "A lot of companies are ready to move beyond setting up a green team and changing light bulbs. They are looking at more extensive measures while working with fewer resources."
While Toronto Greenhouse is mainly known for its monthly speaker and networking events, Green Dragons and the Green Business Strategy Summit successfully gather larger crowds under one roof, engaging a spectrum of small and large companies, and some just keen to learn more.
Green Business Strategy Summit - a distinctive annual event
Tyrell explains that the Summit's unique proposition is the inclusion of both strategy and implementation under the umbrella of green business. "We use case studies, workshops and research findings to provide tools that companies can use immediately, rather than discussing broad issues. It's also about the universality of the subjects covered. Business people from any industry can find value in the content and networking opportunities."
The half-day summit is organized with four concurrent sessions, wedged in the middle of the opening and closing keynotes. It is designed this way to provide attendees with a combination of inspiration, learning and networking. "Attendees will get very relevant and timely information, such as using limited financial resources wisely in our Green Impact workshop and lessons from large companies like Nestle and Clorox," says Tyrrell. "The sessions are also book-ended with keynotes by real innovators in cleantech investing and non-profit collaboration with the business world."
Nicholas Parker, Chairman of Cleantech Group LLC and Parker Venture Management Inc. will deliver the opening keynote. Parker is also Chairman of the Blue Economy Initiative, Corporate Knights Media Ltd, and WaterTAP Corp. Jed Goldberg, President of Earth Day Canada, is scheduled to speak as the closing keynote.
The Green Business Strategy Summit takes place November 8th in Toronto (more information
below).
Green Dragons 5 - Entrepreneurship at its best
For our non-Canadian readers, some background: The name and premise of the event is derived from the popular CBC television show, "Dragons Den", in which entrepreneurs pitch their business ideas and products to a panel of successful Canadian business tycoons for potential investment.
Green Dragons will include sustainability entrepreneurs making their "pitch" for products or services to real investors. By hosting a Green Dragons session, Toronto Greenhouse is in effect "localizing" this entrepreneurial event, and thereby making it accessible to businesses that otherwise may not have the opportunity to make their case to investors. Aside from participant access, the event also acts to inspire and connect other green entrepreneurs in the audience with one another, as well as potential investors.
Who are the Green Dragons in this fifth annual installment?
•Matthew Leibowitz, Partner at Plazacorp Ventures
•Marnie Walker, Founding Member - Maple Leaf Angels / Owner - 401 Bay Centre
•Tim Stoate, Vice President, Impact Investing at The Toronto Atmospheric Fund
Green Dragons 5 will take place October 30th in Toronto (link for more information is included below).
For more information about Toronto Greenhouse, Green Dragons 5 or the Green Business Sustainability Strategy 2012, visit, http://www.torontogreenhouse.com/index.php
-----------
Read previous blogs about Toronto Greenhouse events:
PepsiCo Foods, Unilever and Modbrobes: An Honest Discussion about Green Consumerism in Canada CLICK HERE
Canadian Companies Share Why Being a Green Employer Helps the Bottom Line CLICK HERE
###
Image credit: Green Business Strategy Summit graphic, via Toronto Greenhouse website.