Green Fireworks Go Green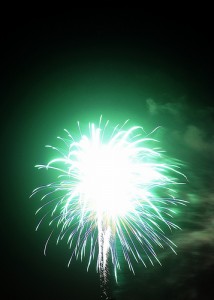 With the dog days of summer just a hair's breath away, thoughts naturally wander to what for many of us is the period at the end of a sentence filled with potlucks, cookouts, and swimming: namely, fireworks.
From our neighbor to the north's Canada Day celebrations, to the Cannes Fireworks Festival, to the Sumida River Fireworks Festival in Japan, to our very own 4th of July celebrations, for people around the world celebrating summer often involves pyrotechnics.
Unfortunately, fireworks, though pleasing to the eye, are heavy on the earth. They often contain a heady mix of benzenes, heavy metals, pechlorates and sulfur oxides. These endocrine disrupting, cancer causing chemicals don't merely disappear upon eruption – as spectators we breathe them in and they trickle into nearby water supplies as well as into the soil where they can become a persistent problem.
It is welcome news then, that army pyrotechnic experts have found a way to turn green fireworks (as in the color), well, more green(as in sustainable). According to an article in the April issue of Nature, the army has a vested interest in making fireworks less toxic because they use them regularly in everything from celebrations to in the field. Current methods involves lighting barium nitrate, a toxic substance when eaten or inhaled that can cause muscle tremors, vomiting, diarrhea, kidney damage and even death, and polyvinyl chloride (PVC), an endocrine disruptor which amongst other things can cause reproductive abnormalities. Researchers, have discovered however, that by submitting born carbide - a less toxic , readily available and cheaper to boot chemical - for the barium nitrate that the result was a less toxic flair.
Now we just have to tackle the rest of the color spectrum.
Photo Credit: < a href="http://www.flickr.com/photos/pixellou/4764542385/" target="_blank">Lisa Williams