HanesBrands Helping Victims Recover From Hurricane Harvey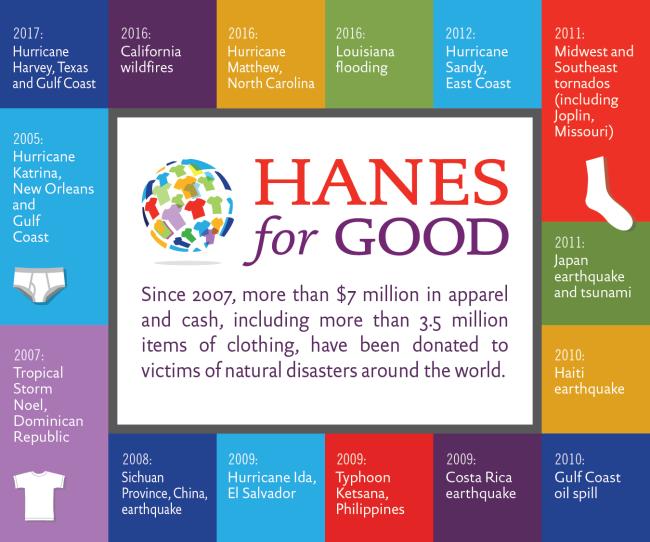 (3BL Media/Justmeans) – It has been estimated that the cost of the damage from Hurricane Harvey is between $150bn to $180bn. It has been the most powerful hurricane to hit Texas in 50 years, killing an estimated 47 people, displacing more than a million and damaging some 200,000 homes in its path of destruction stretching for more than 300 miles.
Now communities, organisations and celebrities are rallying together. On 12 September, Hollywood stars- Beyonce, George Clooney, Julia Roberts, Barbara Streisand, Reese Witherspoon and Oprah Winfrey are to appear in a live one-hour telethon, "Hand in Hand: A Benefit for Hurricane Harvey Relief," to raise money for relief. Proceeds from the event will be distributed to a range of charities aiding recovery efforts in Houston.
Relief is also coming from many companies. HanesBrands has announced it is donating more than five trailer loads of underwear and active wear to help people in this region. Hanes is partnering with the not-for-profit charity, Delivering Good and North Carolina-based transportation company Glen Raven Logistics to get the more than one million items of underwear, socks, intimate apparel, tee-shirts and active wear fleece valued at more than $2 million to flooding victims. Delivering Good will arrange for the goods to reach the relief efforts in Texas and anywhere else needed in the Gulf Coast path of Harvey. HanesBrands will also be donating $25,000 to the American Red Cross.
This will be no ordinary distribution operation, as the Hanes, Champion, Playtex, Bali, and Maidenform apparel products will be shipped from the company's distribution centers based in North Carolina, Virginia and California. Glen Raven is donating the transportation of the goods to Delivering Good. The victims of this natural disasters have a desperate need for the daily basics, that includes shelter, food, water and clothing.
One of the biggest hurdles to helping victims of natural disasters is the logistics of getting aid and donations to those in need. Delivering Good specialises in working with relief agencies to get donated products to where they are most needed in the best and most effective way. It will work with Children's Hunger Fund, Operation Compassion and Caring for Others, among other relief agencies in Texas, to get the donated apparel to flooding victims. It knows how to assist in the long road to recovery.
Hanes has a long history of assisting communities around the world affected by natural disasters and knows how to assist in this situations. Last year, it partnered with Delivering Good to assist those affected by Hurricane Matthew in North Carolina, Louisiana flooding and California wildfires. At the time of writing this, Hurricane Irma is set to be the most powerful Atlantic hurricane in recorded history. It will bring devastation to Florida and the Caribbean, which will mean that more relief efforts will be urgently required from organisations like Delivering Good and HanesBrands.
Photo Credit: HanesBrands on 3BL Media