Helping Animals Through CSR: Exclusive Interview with Animal Legal Defense Fund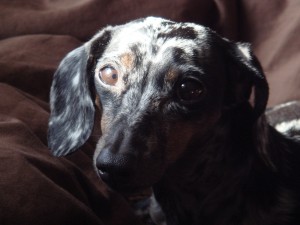 Did you know that this week is National Justice for Animals Week? I asked Lisa Franzetta, Director of Communications for Animal Legal Defense Fund, about this initiative and how CSR-oriented firms can be a part of a great cause.
EXCLUSIVE JUSTMEANS INTERVIEW
Founded in 1979, the Animal Legal Defense Fund (ALDF) is a national non-profit organization whose mission is to protect the lives and advance the interests of animals through the legal system.
This week is ALDF's third annual National Justice for Animals Week, an event dedicated to raising public awareness nationwide about how to report animal abuse -- and how people can work within their communities to create stronger laws for animals and assure tough enforcement. As ALDF Executive Director Stephen Wells noted in a recent email, "Animal victims of abuse cannot speak for themselves -- so concerned citizens and our legal system must speak up for them."
To find out more about this worthy initiative and how socially-responsible businesses can get involved in helping animals, I asked ALDF Director of Communications Lisa Franzetta a few questions.
Reynard Loki: In the three decades that ALDF has been in operation, what are the biggest changes to the legal landscape in regard to animal rights?
Lisa Franzetti: The biggest change over the last thirty years is the creation, growth and mainstreaming of the animal law movement. We started with a blank slate. Now there are over a hundred of animal law classes at law schools and Student ALDF (SALDF) chapters at over 150. There are also many animal law bar association committees and sections and even an American Bar Association (ABA) animal law committee. Another big change has been in the welfare of farmed animals. Thirty years ago, there was hardly any focus in the U.S. on farmed animals. Now, with the passage of several initiatives, starting with the Florida pig gestation crate ballot measure that passed, followed by Arizona and California, Big Ag is on notice that consumers are demanding more humane conditions for farmed animals. The California battery cage law is one example. Also, the anti-cruelty laws in most states have improved significantly -- most now have felony provisions. Prosecutors are taking cruelty cases more seriously. And finally, I want to mention dogfighting. Thirty years ago, this was considered a victimless crime. Following the Michael Vick prosecution, these cases are considered far more important to pursue.
RL: What are some recent ALDF victories?
LF: In February 2010, the City of West Hollywood, California, passed an ordinance, drafted by ALDF working with local activists, effectively banning the sale of animals bred at puppy mills. In October 2010, ALDF's nationwide push to develop a system for law enforcement officials and the public to find out when a convicted animal abuser is in their community scored a historic victory when lawmakers in Suffolk County, New York, voted unanimously to create the country's first animal abuser registry. In November 2010, ALDF filed its third lawsuit in Kentucky over deplorable shelter conditions, this time in Clay County. This so-called "animal shelter" -- a place that should offer hope and sanctuary to animals in need -- is more like a filthy prison, where many, if not most, of the dogs are housed in one large, open-air pen that does not protect them from the elements.
RL: Has the ADLF had any recent clashes with the private sector in an effort to get businesses to be more socially responsible?
LF: Yes. In June last year, we came to the rescue of endangered sea turtles in the Gulf of Mexico who were being burned alive after the massive BP oil spill. With a coalition of three other environmental and animal protection organizations, ALDF filed a lawsuit that forced BP and the Coast Guard to allow animal advocates to identify and rescue the sea turtles before cleanup workers ignited fires that trapped these magnificent turtles in blazes that shot hundreds of feet into the sky.
RL: Has there been a recent positive relationship that the ALDF has had with the private sector that has been critical to the advancement of animal welfare?
LF: Most recently, ALDF has worked directly with industry and toxicologists to put together a series of symposia relating to developing alternatives to the use of animals in toxicity testing. In 2007, the National Research Council recommended that science and industry move away from the use of live animals to test the toxicity of chemicals, pesticides and other products that come onto the market and develop new 21st century tests that don't rely on the use of animals. Their report called for a sustained, well-funded effort that moves away from using live animals to test the toxicity of industrial chemicals and pesticides to which humans are exposed and replaces them with humane alternatives, such as cell cultures, tissue cultures and computer models.
RL: Outside of the obvious benefit to a company's public image, how does the private sector benefit from these symposia?
LF: In these toxicity testing symposia, our objective is to bring about a win-win for everyone -- the animals, the scientists, the industries, environmentalists and public health advocates -- by helping them work through the many questions of how to develop non-animal scientific techniques that are more cost-effective, faster and better predictors of toxicity. As a next step, we'll be working with our collaborators to publish the findings and recommendations that resulted from these highly successful symposia.
RL: For businesses in animal-related industries, there are obvious areas where being ethical and socially responsible is critical for success. How have consumers played a role in this regard?
LF: There is a growing consumer awareness and consciousness about "animal-friendly" -- no animal ingredients or testing -- products, which has created an ever-growing demand for such products. Likewise, product labeling -- such as household cleaners that are "not tested on animals" and eggs produced in "cage-free" conditions -- has built additional awareness which also feeds demand.
RL: How can a CSR-oriented firm help to increase this awareness, especially considering that there are so many products in the marketplace that consumers aren't generally aware involve animal testing or animal cruelty?
LF: For starters, businesses can help a lot by proactively producing and labeling animal-friendly products. Many makers of health and beauty products have voluntarily stopped testing on animals or using animal products. Restaurants can refuse to carry products like veal and foie gras, which are produced using some of the most horrific practices in animal agriculture. Many clothing retailers and designers refuse to sell or design fur. These are all animal-friendly decisions that businesses are in a position to make in advance of legislative remedies to these abuses, which tend to lag behind public sentiment.
RL: Change.org recently set up an online petition urging online retail giant eBay to stop selling live animals. Earlier this week, Wayne Pacelle, the president and CEO of the Humane Society of the United States, wrote that Missouri lawmakers are attempting to gut Prop B, the Puppy Mill Cruelty Prevention Act. Is the pet retail sector going through a major transformation?

LF: With retail pet sales, we are starting to see more and more jurisdictions passing bans on the sale of pets and retail pet stores -- the goal of such legislation is to stop demand for puppies from inhumane puppy mills, since the vast majority of animals sold at pet stores come from puppy mills and similar intensive confinement breeding operations for kittens.
RL: As legislators and animal welfare advocates hash out these state-based laws, what can a CSR-oriented pet retailer do to stand out from the competition and above the fray?
LF: Many socially responsible pet retailers have voluntarily shifted their focus on providing products for pets and educated pet guardians, rather than supporting abusive puppy mill operations. Also, we always encourage adopting homeless pets, rather than purchasing them from breeders or pet stores.
RL: For businesses not in animal-related industries that want to get involved in supporting these causes, what can they do beyond philanthropy?
LF: Businesses can allow employees to bring their pets to work and set up practical rules to allow that. Businesses can also support their local humane societies by donating blankets, food, and time. Landlords and building owners can adopt responsible pet ownership rules, rather than blanket no pet clauses. This will allow responsible guardians to keep their pets and cause fewer animals to be sent to the pound. We've also seen law firms do "Jeans Days" and other fundraisers where ALDF has been the beneficiary of their staff's generosity. It's a great way to raise morale and awareness within a corporate setting.
ALDF is open to hearing from professionals with strong business, marketing, public relations and accounting backgrounds who are interesting in putting their expertise to work as potential mentors, advisors and board members. To find out more, please contact ALDF at info@aldf.org. For more information about ALDF, visit aldf.org. To sign the ALDF's Animal Bill of Rights, click here.

image: Banjo