Hong Kong School Kids Take Lesson in Sustainability from FedEx and Jane Goodall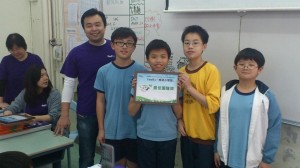 On July 8, the public had access to an organic market at Gold Coast Piazza in Hong Kong. The produce on offer was the result of the work of students who taken part of an environmental education program that included a hands-on project to make their school grounds greener. The project also educated the kids about the importance of eating their greens.
Behind this initiative is a collaboration between the Jane Goodall Institute (JGI) and FedEx. Called the "FedEx We Deliver Green! Classroom" program, it involves a mix of theoretical and practical approaches to teaching students how to protect the environment and how to adopt behaviors that are environmentally friendly. 200 students, ages 10 to 12, have taken part in the project under the guidance of teachers and volunteers from Fedex and JDI staff.
Over the nine-month program, the students from Gaia School, H.K.F.E.W. Wong Cho Bau School, Maryknoll Father's School (Primary Section) and St. Stephen's College Preparatory School studied a series of FedEx-developed classroom tutorials and participated in practical exercises to understand the origins of food, global trade, and the impact of modernization on the environment.
"Children are our future leaders and it's important they understand issues facing our global community, such as environmental conservation," said Anthony Leung, managing director, FedEx Express Hong Kong and Macau. "The FedEx collaboration with the Jane Goodall Institute is an effective platform for us to enlighten the next generation to become successful, responsible individuals in their communities."
The ethos of the project dovetails with Jane's concern with educating the young. Anyone follows Goodall's inspiring work with people, non-human animals and the planet must have heard her say that she believes educating future generations is the most effective way to preserve this planet and the life that it holds.
The program was first implemented in Taiwan in 2010, two years before coming to Hong Kong. Besides the partnership with JGI, FedEx took other steps to reduce its environmental impact in the region, including the launch of a diesel-electric hybrid truck fleet, which led to a 30 percent reduction of carbon emissions in comparison with standard fossil fuel diesel. Besides, the company employed the B777 aircraft whose engine is more fuel efficient and leads to reductions of up to 18 percent.
Image credit: JGI