Hungry for Profit: The Ethics of Speculating on Food Prices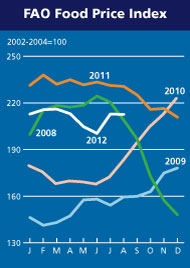 From wheat to cattle, sugar to hogs, food commodities have become big business. But should society be playing with its food for financial gain?
Investing in the stock market has been likened to gambling. Of course, they are fundamentally different. Gambling is a zero-sum game; no actual value is created, the loser's money is simply given to the winner. Buying stock, on the other hand, creates value. The purchaser becomes an owner of a share of the company, adding value to a corporation and, by extension, adding wealth to the economy at large. The share price changes along with the company's value, according to fluctuating business conditions, such as supply and demand.
But what about food commodities trading? Does that create value like trading stock? A growing chorus of voices is saying no—and much more: It's making people hungry. The primary problem with speculating on food prices, its critics argue, is (surprise)...its effect on food prices.
CRISIS 2050: HOW TO FEED 9 BILLION PEOPLE?
If you're an average American, you spend about 13 percent of your disposable income on food. But if you are one of the world's poor, you must spend upwards of 70 percent of what you earn. Still, even average Americans feel the pinch when food commodities like corn or soybean go through price spikes—volatility caused in part by speculation on the food commodities market.
In 2009, the Food and Agriculture Organization (FAO) of the United Nations warned, "In the first half of this century, as the world's population grows to around 9 billion, global demand for food, feed and fibre will nearly double while, increasingly, crops may also be used for bioenergy and other industrial purposes."
In order to feed the 9.1 billion people who are projected to inhabit the planet in 2050, USD 83 billion must be invested annually in developing countries' agriculture, according to FAO estimates. How can all those people be adequately fed when food prices change at the whim of market speculation?
DON'T PLAY WITH YOUR FOOD—OR OUR FOOD, OR THEIR FOOD
Former French president Nicholas Sarkozy has been one of the most prominent critics of commodity speculation. In June of last year, at an EU conference on raw materials and commodities in Brussels, then-president Sarkozy called on the European Union to "be inspired by what the U.S. already has done," referring to the passage of the Dodd-Frank Wall Street Reform and Consumer Protection Act (a.k.a., the "financial crisis bill"), which was signed into law by President Obama in June of last year. Sarkozy called for minimum cash deposits for derivatives trades, a centralized international commodity trading registry and new legislation against market abuse.
"In futures markets historically there have been limits on the amount of a speculative position in any given futures contract that a single trader could take," said former SEC regulator Susan Ervin, explaining the impact of Dodd-Frank on commodities markets at an Economist Intelligence Unit/Business without Borders seminar in New York. "This is to prevent market abuse, market manipulation, prevent excessive control over commodity supply in a single player. Dodd-Frank says, 'We want these limits now to apply to swaps as well as futures, and we want you to really bear down on what these limits are,' in other words, make these more constraining than they were previously."
Dodd-Frank (which was split generally across party lines; only three Republicans voted "Yay" in the House) establishes speculative position limits for 28 physical commodity futures contracts, including cattle, hogs, wheat, corn, oats, soybeans, cocoa, coffee and sugar, as well as economically equivalent futures and swaps.
PUSHBACK FROM BIG AG AND REPUBLICAN LAWMAKERS
Unsurprisingly, neither big agribusiness nor pro-deregulation financiers are happy with the new rules, which Ervin notes are "significant enough that there's already litigation." Indeed, the securities industry via the Securities Industry and Financial Markets Association (SIFMA) and the swaps industry via the International Swaps and Derivatives Association (ISDA) have joined forces to file a lawsuit seeking to overturn the speculative position limit rule, which was adopted by the Commodity Futures Trading Commission (CFTC) in a 3-2 vote in October. The rule, which limits the number of commodities contracts (i.e., speculative positions) a single firm can hold under provisions outlined in Dodd-Frank, was voted along party lines: Three Democrats voted "yay" and two Republicans voted "nay."
Agribusiness giant Cargill, the largest privately held American corporation in terms of revenue ($119.5 billion in 2011), must now increase collateral requirements under the new law. But the company argues that it should be exempt because, as Andrew Peaple of The Wall Street Journal reports, "its small derivatives-dealing business risks the whole company being classified as a 'swaps dealer.'" He notes, "A full exemption from Dodd-Frank would hand commodities companies...a significant competitive advantage over banks, tempting them to expand activities," adding that commodities firms "need to show their over-the-counter trades don't present a systemic risk ew disclose details on their exposures."
House Agriculture Committee chairman Frank Lucas (R-Okla.) criticized the CFTC vote, saying, "I am concerned the rule will unnecessarily restrict hedging by our agricultural and energy producers, the very hedging that helps them stabilize the costs of food, fuel and power, and may very well exacerbate price volatility rather than reduce it."
So while advocates of regulatory oversight and sustainable finance have lauded Dodd-Frank (the overly complex "Volcker rule" notwithstanding; for more on that byzantine section of the law, see my article about it here), its opponents will still have their day in court and of course, as with all legislation—particularly in the murky world of finance—enforcement isn't guaranteed.
GLOBAL THREAT: GROWING GAP BETWEEN REAL FOOD AND PLAY MONEY
But while the United States has made strides towards market regulation, the danger of commodity trading is an issue of global dimension and effect. In his Brussels speech, Sarkozy said the "gap between the reality of physical markets and that of financial markets has widened," blaming the phenomenon of "financialization" for bringing the world "to the edge of a precipice."
"In agricultural raw materials on the Chicago Mercantile Exchange alone, the total of derivatives annually exchanged is 46 times the world production of wheat," he said. " is not how a market economy should function, and we need to act."
In an excellent 2011 special report for Spiegel, Horand Knaup, Michaela Schiessl and Anne Seith explain how "in recent years, the financial markets have discovered the huge opportunities presented by agricultural commodities," describing commodities trading as a world where "decisions are made about the prices of food—and, by extension, the fates of millions of people…decisions that affect both hunger on the planet and the wealth of individual investors." They quote commodities trader Alan Knuckman: "I trade in anything you can get in and out of quickly...I'm here to make money."
SINCE DEREGULATION, A WORRYING TREND
Between 2001 and 2011, according to the FAO's Food Price Index, the average commodity price of food—which includes meat, dairy, cereals, sugars and oils and fats—has increased 145%. Except for a peak in the early 1970s, the cost of food declined from the early 1960s until 2002, when it began its upward trend that remains today.
The upward trend closely correlates with the passage of the Commodity Futures Modernization Act (CFMA). Signed into law on December 21, 2000, by President Bill Clinton, the Act ensured that over-the-counter (OTC) derivatives transactions would not be regulated as "futures" under the Commodity Exchange Act of 1936 (CEA) or as "securities" under federal securities laws. And as we now know, Alan Greenspan-inspired deregulation during the Clinton years was a primary cause of the 2008 financial crisis.
"The consequences are devastating, as speculators drive up food prices and plunge millions of people into poverty," say Knaup, Schiessel and Seith. "But investors care little about the effects of their deals in the real world." They note new record high prices reported by the FAO in March of last year, "which even surpassed the prices during the last major food crisis in 2008...overall food costs rose by 39 percent within one year. Grain prices went up by 71 percent, as did prices for cooking oil and fat. The index had reached 234 points in July, only four points below its all-time high in February."
HUNGRY MAN, ANGRY MAN: HIGH FOOD PRICES LEAD TO POVERTY, SOCIAL UNREST
"People are starving because the markets are out of equilibrium," said Yaneer Bar-Yam, director of the New England Complex Systems Institute (NECSI), a Cambridge, Massachusetts-based research organization that has studied the impact of food commodity speculation. "Food prices have nothing to do any more with the real price of food, or the availability of food."
"Food price increases have become a human tragedy of enormous proportions," said Dominican Republic president Leonel Fernández Reyna, in a keynote address at the 66th General Assembly of the United Nations in April. The United Nations High-Level Task Force on the Global Food Security Crisis has been working with the G-20 to address the structural problems in the global food system, problems which disproportionately impact the world's poor, who are the unwitting subjects of food commodity speculation.
One of the major problems preventing food security, Reyna said, was the "recurrent condition" of food-price volatility, a condition that has lead to over 150 million more hungry people in 2009 alone. Add that figure to the 925 million people already hungry, and we're looking at well over 1 billion people who don't have enough food. Calling increased investment in food commodity markets a "major factor," Reyna also pointed out that over 60 nations have recently experience food-price-related riots, saying, "A hungry man is an angry man."
WORLD FOOD DAY: TIME TO REFLECT
There has been some recent progress on the European front. Last month, two banks—Germany's Commerzbank and Austria's Volksbanken—announced a move to reduce their investments in food commodities. This followed a decision by Deutsche Bank to place a moratorium on new investment products in agricultural commodities while they study their impact on food prices.
This is encouraging news leading up to World Food Day on October 16, an observance that the FAO hopes will raise "awareness and understanding of approaches to ending hunger." But while the commodities markets may pose grave dangers to food security, the private sector still has an important role to play towards a more stable global agricultural systems, namely through sustainable finance and political influence.
"There can be no freedom from hunger—there can be no food security—without the active participation of all sectors of society, including the private sector," said FAO's Director-General, José Graziano da Silva, calling on agribusiness leaders for increased investment in agriculture in terms of increased food production and employment. "We need to build consensus and mobilize all stakeholders towards this goal. With the private sector on board, national and international efforts to fight hunger have added legitimacy."
SHOULD FOOD COMMODITIES SPECULATION BE A CRIME?
For some critics of food commodity speculation, neither a reduction in instutional investments or increased regulation are enough—criminalization is the only answer. In the U.S., Senator Maria Cantwell (D-Wash.) and Congressman Ed Markey (D.-Mass) are currently working on a bill to outlaw the practice altogether.
"This is capitalism in its purest form," said Knuckman, the commodities trader, referring to the Chicago Board of Trade (CBOT), the largest commodity futures exchange in the world, which merged with CME in 2007. "This is where millionaires are made."
He's right, of course, But what those millionaires don't know—or perhaps don't even care about—is that it's also where millions go hungry.
###
NOTES
Horand Knaup, Michaela Schiessl and Anne Seith. Speculating with Lives: How Global Investors Make Money Out of Hunger. Spiegel Online. September 1, 2011. Accessed September 8, 2012.
Food and Agriculture Organization of the United Nations. How to Feed the World in 2050. May 19, 2009. Accessed September 8, 2012.
Ibid.
John W. Miller. Sarkozy Prods Regulators: EU Urged to Rein In Commodities Trade; Invoking the Fight Against the Mafia. The Wall Street Journal. June 15, 2011. Accessed September 8, 2012.
Susan Ervin. The Dodd-Frank Act: Regulating commodity markets. February 23, 2012. Accessed September 14, 2012.
Commodity Futures Trading Commission. Q & A – Position Limits for Futures and Swaps. October 18, 2011. Accessed September 14, 2012.
Ibid., 4.
Andrew Peaple. Commodities Firms Fear Dodd-Frank Effects. The Wall Street Journal. March 12, 2011. Accessed September 14, 2012.
Asjylyn Loder and Silla Brush. Top U.S. Regulator Approves New Limit on Commodity Speculation in 3-2 Vote. Bloomberg News. October 18, 2011. Accessed September 8, 2012.
Ibid., 3.
Ibid., 1.
Food and Agriculture Organization of the United Nations. FAO Food Price Index. September 6, 2012. Accessed September 14, 2012.
Food and Agriculture Organization of the United Nations. The State of Food Security in the World: Recent trends in world food commodity prices: costs and benefits. October 10, 2011. Accessed September 14, 2012.
Ibid., 1.
Astrid Zweynert. Curbing food speculation - right step to stop hunger?. AlertNet. May 2, 2012. Accessed September 8, 2012.
United Nations General Assembly. Experts Stress Need for Political Will to End Excessive Speculation in Commodity Markets as General Assembly Holds Thematic Debate on Price Volatility. Sixty-sixth General Assembly, High-Level Thematic Debate (GA/11223). April 11, 2012. Accessed September 8, 2012.
Jennifer Clapp. Financialized Agriculture: The New Realm of Social Activism. TripleCrisis.com. August 29, 2012. Accessed September 8, 2012.
Reuters. Deutsche Bank says no new food investment products. March 20, 2012. Accessed September 14, 2012.
Food and Agriculture Organization of the United Nations. World Food Day 2012. March 31, 2012. Accessed September 8, 2012.
United Nations News Centre. Fight against hunger needs greater investment from private sector, stresses UN agency. September 13, 2012. Accessed September 13, 2012.
Frederick Kaufman. Want to stop banks gambling on food prices? Try closing the casino. The Guardian. May 10, 2012. Accessed September 8, 2012.
Ibid., 1.
image: FAO Food Price Index (Food and Agriculture Organization of the United Nations)