"Ignite My Future" Prepares US Students for Careers That Don't Yet Exist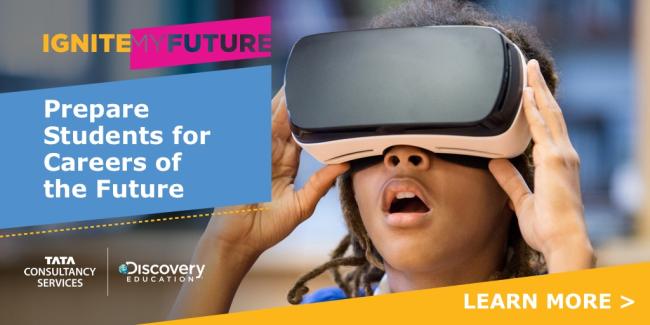 (3BL Media/Justmeans) In the US right now, less than 25 percent of schools teach computer science-related courses. Yet in less than five years, there will be one million more jobs requiring computer science skills. That's why Tata Consultancy Services, (TCS), a global IT services, consulting and business solutions organization, has partnered with Discovery Education, a provider of digital education content and professional development for K-12 classrooms, to launch 'Ignite My Future in School' – the first-of-its-kind, multi-million-dollar initiative to drive computational thinking. It will use new teaching resources to transform the way K-12 students, aged 17 to 19, to learn across America.
The Ignite My Future in School initiative aims to revolutionize innovative learning experiences by strengthening teacher value and increasing student interest in computational thinking. It plans to engage 20,000 teachers and a million students by 2021. As a first step, TCS and Discovery Education have announced that ten US school systems – with more than 6,700 teachers and 194,000 students – have joined as early adopters. These leading-edge partner schools are: Brooklyn, N.Y.; Charlotte, N.C.; Dallas; Denver; Detroit; Dublin, Calif.; Harrisburg, Pa.; Janesville, Wis.; San Anselmo, Calif.; and Stone Mountain, Ga. 
These 10 schools have joined this project in a five-year educational training and learning commitment to empower middle school teachers. The selected schools will have the unique opportunity to learn and apply computational thinking through an annual free day of professional development for educators and community night for parents. In addition, TCS and Discovery Education have launched an online program, TECHademy, which will help engage teachers nationwide in an exclusive, cost-free, virtual professional development experience that includes curriculum resources, eLearning courses, webinars and more. These resources are aligned to national US standards, as well as the recently launched K-12 Computer Science Framework.
As an industry leader, TCS believes it has a responsibility to prepare the next generation of American students with the computational thinking and digital fluency that are critical to succeed in their future careers across all sectors. Advanced thinking and greater investment in students is the way forward and equip them to be 'big picture' thinkers.
The expansion of Ignite My Future in School will empower educators, administrators and school districts to champion a transdisciplinary approach to learning, as they introduce computer science to students within the context of core subjects, including English, mathematics, social studies, science and the arts. Essentially, it will help to prepare these teenagers for many careers and elements of jobs that do not even exist as yet. Now more than ever, students need to learn these basic skills that will help them prepare for lifelong learning.
Photo Credit: Ignite My Fiture on 3BL Media