In Second Inaugural, a Bold Stance on Climate Change, but Tactics Still Uncertain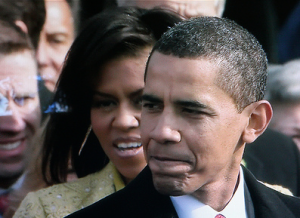 President Obama outlined a proactive stance on climate change during his second inaugural address.
In the wake of President Barack Obama's proactive remarks on climate change, which were warmly embraced by progressives of all stripes, environmental groups have offered different solutions to address what is becoming an environmental crisis of unprecedented proportions.
Obama's description of the environmental agenda he plans to pursue in his second term was unequivocal. "We will respond to the threat of climate change," he said, "knowing that the failure to do so would betray our children and future generations."
The President also addressed the skeptics who challenge the widespread scientific consensus that climate change is occurring as a result of human activities.
"Some may still deny the overwhelming judgment of science, but no one can avoid the devastating impact of raging fires, and crippling drought, and more powerful storms," the President said in reference to the increasing incidence of extreme weather events, both in the United States and around the world.
Obama also offered a broad outline of how he plans to rein in fossil fuel emissions during his second term, suggesting that his administration would encourage the development of renewable energy technology.
While environmental groups welcomed the President's candid acknowledgement of the climate crisis, they have suggested divergent, though not mutually exclusive, tactics to reduce carbon emissions.
Bill McKibben, founder of the climate change organization 350.org, sent a message to his mailing list shortly after the speech that encouraged people to convene in Washington D.C. on Feb. 17 to urge the President to shut down the Keystone XL tar sands pipeline.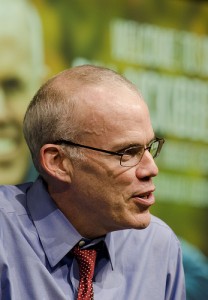 Bill McKibben, founder of 350.org, is organizing a demonstration in Washington to stop the Keystone XL pipeline.
"e know that even if the President is sincere in every syllable, he's going to need lots of backup to help him get his point across in a city dominated by fossil fuel interests," wrote McKibben, whose organization brought together several thousand environmental protestors in November, 2011 in an effort that helped postpone the pipeline project.
"iven the record of the last four years, we know that too often rhetoric has yielded little in the way of results," he added.
Meanwhile, Citizens Climate Lobby (CCL) released a statement that made no mention of protests but instead offered an olive branch to Congressional Republicans who generally oppose environmental legislation that interferes with the free market.
Mark Reynolds, CCL's Executive Director, said that small-government Republicans should preempt a regulatory approach spearheaded by the Environmental Protection Agency by proposing market-based legislation that would encourage economic growth while reducing greenhouse gas emissions.
"Republicans have a choice," said Reynolds. "They can let the executive branch deal with climate change through increased regulations and government incentives, or they can take the proactive approach of a market-based solution using a revenue-neutral carbon tax."
CCL said that a "clear and predictable price" on greenhouse gas emissions, via a revenue-neutral carbon tax, would harness the power of the free market to accelerate a transition to clean and renewable energy. The government would then return tax revenue to households in order to protect consumers from the economic impact of increased energy costs associated with the carbon tax.
"One way or another, America will respond to the threat of climate change," said Reynolds. "The question is whether that response is through expansion of government regulations or through the power of the marketplace. Republicans, who abhor the former, should embrace the latter with a revenue-neutral tax on carbon."
Image credit: Fabrice Florin, Flickr
Image credit: School of Natural Resources, Flickr