In Wake of Important Climate Change Study, Analyzing an Instance of Big Oil's Misinformation Campaign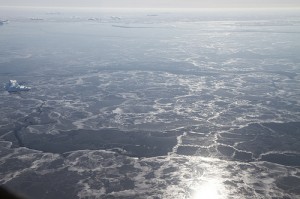 One of the world's leading climatologists published a study this week that proves the increase in "extreme weather events" in recent years cannot be statistically attributed to anything other than anthropogenic climate change.
James Hansen, Director of NASA's Goddard Institute for Space Studies, professor at Columbia University, and the man whom many consider the "godfather of global warming," has shown that there is no other explanation for the unprecedented rash of recent heat waves. The European heat wave of 2003, the Russian heat wave of 2010, and the Texas droughts in 2011 were the direct results of climate change, plain and simple.
And data suggest that there's much more where that came from.
"In a new analysis of the past six decades of global temperatures," wrote Hansen in the Washington Post, "my colleagues and I have revealed a stunning increase in the frequency of extremely hot summers, with deeply troubling ramifications for not only our future but also for our present.
"This is not a climate model or a prediction but actual observations of weather events and temperatures that have happened," Hansen continued. "Our analysis shows that it is no longer enough to say that global warming will increase the likelihood of extreme weather and to repeat the caveat that no individual weather event can be directly linked to climate change. To the contrary, our analysis shows that, for the extreme hot weather of the recent past, there is virtually no explanation other than climate change."
Hansen's study demonstrates that while average global temperature has risen about 1.5 degrees Fahrenheit during the past century, "the extremes are actually becoming much more frequent and more intense worldwide."
Still, this incontrovertible evidence from an eminent climatologist has left some unconvinced. Nihilistic corporate interests, unscrupulous politicians, and headline-grabbing members of the media have come out of the woodwork to challenge Hansen's findings.
One such critic is Boston's Thomas Richard, a freelance writer who claims he is "dedicated to enhancing the national debate on the theory of man-made global warming." In a response to Hansen's peer-reviewed study, published by the National Academy of Sciences, Richard, whose credentials are apparently nonexistent, refers to the eminent climatologist as an "activist" and proceeds to dismiss Hansen's findings without offering a shred of cogent countervailing evidence.
Richard's soap box of choice, Examiner.com, is an aggregator of amateur news that has been the subject of journalistic scrutiny for its lack of verification and fact-checking of the stories it publishes.
Examiner.com is owned by billionaire Philip Anschutz's Anschutz Entertainment Group. Anschutz sits on the boards of the National Petroleum Council and American Petroleum Institute (API). The latter organization enjoys the dubious distinction of being the largest U.S. lobbying association for the oil and gas industry. In short, API is a mouthpiece for Big Oil.
The lobbying group works diligently to fight climate control legislation and has urged the State Department to move forward on the infamous Keystone XL pipeline, despite widespread public disapproval and evidence that the project could be environmentally disastrous and fail to create jobs. Taking a page from Big Tobacco's playbook, API has even targeted children with an "educational" website that unabashedly supports the oil and gas industry.
Anschutz also purchased the notoriously conservative Weekly Standard from Rupert Murdoch's News Corporation in 2009. Small wonder that corporate shills like Thomas Richard have found a home in Anschutz's media empire.
Of course, Richard is but a small piece of the much larger, murkier, and more powerful climate denial puzzle. Against such a well-funded campaign of misinformation that is in no way designed to serve the interest of the public, we are fortunate that we have trained professionals like Hansen to whom we can turn for raw data and analysis.
Moreover, the media is not uniformly turning a blind and ignorant eye to the climate crisis. Last Week, the Weather Channel Companies announced a new series that will explore the "tipping" points of the Earth's changing climate systems.
Photo credit: NASA Goddard Photo and Video