India Behind The Curve With Its Lack Of Female Diversity In Business Leadership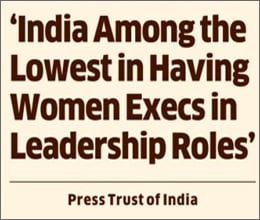 (3BL Media/Justmeans) – It perhaps comes as no surprise that India continues to rank third lowest in the proportion of business leadership roles held by women for the third consecutive year, according to a global survey, Women in business: New perspectives on risk and reward by Grant Thornton. This research of 5,500 businesses in 36 economies reveals that 41% of Indian businesses have no women in leadership roles, seven points higher than last year. Only 17% of senior positions are held by women. The most common jobs held by women in India are Human Resources Director (25%); only 7% of the senior management (CEO/ Managing Director) roles were held by women.
This low representation of women in senior management roles shows that a change in mindset is needed culturally, across business, community and government. While India is sorting itself out with its attitudes to women in business leadership, there is, thankfully, a growing global acknowledgement of the need to increase gender diversity in the workforce. Embracing diversity is essential to the corporate agenda; it helps drive efficiencies and effectiveness within teams, functions and organisations. Interestingly, Grant Thornton's report suggests that the increase in businesses without gender diversity in senior management comes at a time when companies face increasing levels of uncertainty. It explores the role of gender when it comes to spotting and managing risks, by either seizing the opportunity or managing the threat that risk can bring.
The research shows that men and women see risks and opportunities differently, and that they provide a diversity of thinking when combined. Women see lower levels of risk and opportunity when considering organisational and commercial life, such as political or economic change. They are also less inclined than men to take action in the face of an unforeseen risk that threatens their organisation's commercial performance. This study therefore, challenges the argument that women are risk averse and instead, says women will not rush to label a situation as a risk. Instead, they consider the context and nuance fully, and respond in ways that recognise the wider environment and the impact their decision will have on people, and the bottom line.
The international findings show that Eastern European companies perform best, with 38% of senior roles held by women in 2017, while the MINT economies (Mexico, Indonesia, Nigeria and Turkey) saw the most improvement; the proportion of senior roles held by women rose from 24% in 2016 to 28% in 2017. Studies around the world have shown that companies that have a greater number of women on their senior management tap into a fuller spectrum of creativity and innovation.
Back to India—it is time for Indian companies to step up the benefits they offer women, from equal pay for the same work to better childcare options. Overall, organisations must learn to recognise the aspirations of millennial women and their desire for flexible work timings for a better work/life balance. These are the basic support systems that working women in the world need.
Photo Credit: Press Trust of India/Grant Thorton