InSTEDD's Geochat puts social-media on the health map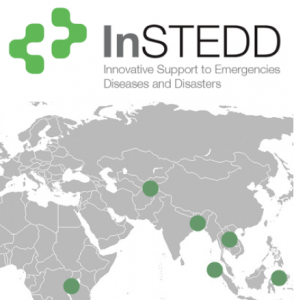 Health coverage on Justmeans has looked at a lot of media solutions aimed at improving health care and public health delivery, including Sam Werthheimr's current series reviewing those  applications showcased at Health 2.0.
What are some of the hallmarks of services that crossover from merely functional to great? InSTEDD (Innovative Support to Emergencies Diseases and Disasters) offers a product that embodies many key attributes, called Geochat.
What is Geochat, and what makes it standout? Geochat is a web-based service that ties geolocation with social media, and functions across platforms. "Designed to enable self-organizing group communications by allowing users to link the field, headquarters, and the local community in a real-time, interactive conversation visualized on the surface of a map," it is open sourced, based on texting, SMS, and Twitter. Picture an international health field operation, with players spread across a given geographic area. The map of your service area is bulleted with icons indicating who is where. Clicking on individual icons allows you to read recent postings by that individual, or send them a message. Messages sent by email can be transmitted via SMS to a mobile device in the field. Pretty cool.
But its notable for how it combines many familiar features into one functional package. Geochat appears to harness social media for a practical application beyond the social, this is much more than a map-based chat room or Foursquare gone global. Then it applies the huge potential of geolocation, again in a practical and functional manner. While 75% of the 5 billion mobile phones on the planet have SMS and GPS capability, location services are struggling to find meaningful applications, both in health an other sectors. At Justmeans recent conference on Social Media, Technology and Change, Nokia asserted that location services will be the next big thing, yet a recent Pew survey finds that only 4% of web users utilize them. InSTEDD obviously sees the value of knowing where information is coming from, especially in a disaster or public health operation. Simply text in your location, and Geochat will plop you on the map for web-users to see.
On the user side, the cross-platform nature of Geochat is refreshing. Whether professionally or personally, we are increasingly accessing information, inputting data, communicating  and collaborating across multiple devices. Send an email from your laptop at work, then read a response on your smart phone, read a blog posting on your iPad, then tweet about it from your phone. For a technology or service to see wide spread use, it needs to operate across the spectrum of devices that we see everyday: Laptops, iPads, mobile devices. PC, Mac, Android, Linux, Firefox. From the provider side, the Geochat's ability to knit together multiple communication carriers is pragmatic: It ties in multiple phone carriers with email and twitter into a single communication solution, with the value added benefits of mapping.
Are you a Geochat user? Please share your experiences with this innovative technology. Not a user? Keep your eyes and ears peeled, for mentions of the application as its usage spreads.
Photo credit: InSTEDD