Integrated Reporting Revealed: Canada's Vancity Shares Experience & Tips for Success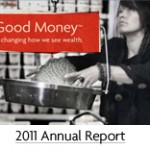 By: Meirav Even-Har, Toronto
Canada's largest credit union, Vancity, has been at the forefront of corporate community and sustainability work for many years. In this year's Social Innovation Awards presented by Justmeans, Vancity was named Finalist - Best Integrated Report. The company has two integrated reports under its belt and is the only Canadian representative on the International Integrated Reporting Council (IIRC) pilot programme.
The concept of integrated reporting is aligned with Vancity's vision of redefining wealth - that true wealth is much more than financial wealth, it's also about member and community well being. Vancity measures success in terms of how the organization contributes to the financial, economic, environmental and social well being of its members and the communities where members live and work. According to Joanne Westwood, Manager of Accountability Reporting, the move toward integrated reporting was the next logical step. Vancity published its first integrated report in 2010.
About the Process...
"External reporting needs to mirror internal reality, including business strategy and values," Westwood comments. "Shortly after we launched our Vision, we developed a business case and an implementation plan to move to an integrated report." She explains that having financial, economic, social and environmental measures in one report educates Vancity members about the organization's alignment of profit earnings with its core values. "It's hard to fake an integrated report," Westwood adds. "An integrated report will reveal if there is disconnect between your business strategy and sustainability goals."
Westwood notes that having commitment from the top is a necessary component to success. Vancity's CEO, executive team and Board were all very supportive, which allowed for a smoother transition to integrated reporting. "The process is more complicated because it necessitates working across an organization," she remarks. "For the first integrated report, we focused our efforts on aligning sustainability and financial data systems and timelines, while the following year's drove us to dive deeper into ways we can better integrate decision-making processes such as strategic planning, risk management and reporting." The transition to integrated reporting includes shifting the timing of the data collection and auditing processes, connecting with additional people throughout the organization and drawing links between the financial and CSR performance aspects reported.
Finally, having a comprehensive index along with the complete set of financial and accountability statements available to download separately, helps report users find specific information with greater ease.
Challenges and Benefits...
Westwood remarks about efficiencies gained in having one report. "There are tangible savings in report design and printing costs." Staff time is also reduced in producing a single report instead of two. The main benefit, however, comes from what the report necessitates: integration of sustainability into the business decision-making process. Having one report, Westwood says, "is a great way to facilitate discussions and dialogue on what is working and how we can further embed sustainable business practices across the organization." She explains that one challenge is "better understanding and articulating the linkages between sustainability and financial performance."
For Westwood, the benefits of integrated reporting outweigh the challenges. "It's about bringing everything together and breaking down the silos by integrating financial and non-financial business factors. It is about ultimately driving better decision making at Vancity." She concludes.
###
Read Vancity's 2011 integrated Annual Report: Good Money is Changing How We See Wealth https://www.vancity.com/AboutUs/OurBusiness/OurReports/
NOTES
IIRC: Integrated Reporting Pilot Programme http://www.theiirc.org/about/pilot-programme/
Vancity Vision: Redefining Wealth https://www.vancity.com/MyCommunity/OurVision/RedefiningWealth/
Image: Vancity 2011 Annual Report Cover (Vancity website)