Jeff Bridges and Kevin Bacon Get Socially Responsible on Hunger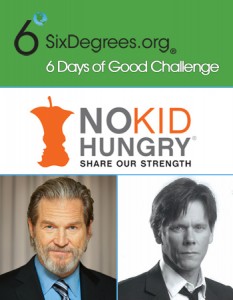 US$4,978,054. That's how much the SixDegrees.org socially responsible social network had raised at the time of writing this article. The charity is a partnership between actor Kevin Bacon and Network for Good, which works with nonprofits and corporate partners to raise funds for good causes.
The name of the site, created in 2007, makes reference to the popular game 'Six Degrees of Kevin Bacon,' and enables individuals to do good by supporting their favorite charities or creating a social network. People can also pay it forward with Good Cards that can be redeemed as a donation to more than one million charities.
Recently, SixDegress.org held the 6 Days of Good for Hunger between September 25 and 29. The project was launched by Bacon and the organization's celebrity ambassador Jeff Bridges, with support from partner nonprofit Share Our Strength's No Kid Hungry Campaign.
Challenge participants were invited to create an online fundraiser on SixDegrees.org for their favorite charity fighting to end hunger, including Share Our Strength, and recruit their friends and family to donate via social outreach. Over the course of six days, the fundraiser who raised the largest number of unique donations won a $6,000 challenge grant from Kevin Bacon for his or her charity.
The second-place fundraiser won a $3,000 grant and the third-place fundraiser won a $1,000 grant. Challenge details are available on the site and to be kept informed of the results, visitors need to sign up to an alert system.
Besides hunger, SixDegrees.org also supports causes in global aid, health, environment, animals and youth.
"Hunger is an incredibly important issue for me. The '6 Days of Good' challenge provides an opportunity to amplify the important work of No Kid Hungry and inspire others to join me in raising awareness about this critical issue," said Jeff Bridges.
Social networks have become a force to be reckoned with, as we have noted before. They can leverage the power of civilian goodwill, thanks to the amazing tools available to anyone with a computer.
Image credit: SixDegrees.org