Largest Study on Oil Spill Impacts on Human Health Kicks Off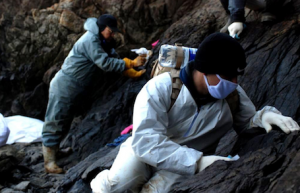 Following the tragic Gulf Oil Spill last year, the National Institute of Environmental Health Sciences (NIEHS) is leading the largest study ever conducted on the possible effects of an oil spill on human health. The study will assess Gulf of Mexico residents who help with the oil spill clean up, surveying their health over the next five years. The Gulf Long Term Follow-Up Study (GuLF STUDY) will compare the health of clean-up workers to those who did not assist in the clean-up efforts to determine if particular health problems are more prevalent in the clean-up workers. The study is mainly funding by the National Institutes of Health, with $19 million set aside, and a $6 million contribution from BP. BP was not involved in the research's design, implementation, nor will it be involved in analyzing the results.
Health Goal of Study
The study will analyze several factors that may be contributing to poor health among oil spill clean-up workers. They will engage 100,000 individuals to participate, with a study size goal of 55,000 participants. Analyzing how individuals were exposed is an important piece of the research puzzle, ranging from air pollution and controlled burns to direct contact either to oil or dispersants and even contaminated seafood. NIEHS will also enlist the help of toxicologists to help determine appropriate biomarkers to guide the research and analysis of results.
The study will include questionnaires and physical examinations. The study is taking a comprehensive approach to identifying other factors that may contribute to illness or increased chances of getting sick. Factors such as stress, job loss, and access to health care will be included and may also help shed light on mental as well as physical health. Currently, a range of illnesses from respiratory difficulties and rashes all the way to chemicals in worker's bloodstream has raised red flags. There is also believed to be a high risk of cancer for those involved in the efforts.
Possible Implications of the Study
The study has the potential to guide safer clean-up efforts down the road worldwide. It will also serve the Gulf communities to assess their public health systems including accessibility to care, those with insurance, and other health measures. The study will also help give a voice to those impacted by the oil spill, since the majority of attention was focused on responsibility and industries. It may also provide grounds for individuals to file lawsuits against BP for their subsequent illnesses.
This is an important step in assessing not only ecological and industrial impacts of poor regulation and poor business management, but to value the human capital in charge of undoing one of the most hazardous human-caused accidents to date.
To follow the results of the study, please visit the NIH's Gulf Study website.