Meat Glue, Pink Slime and Food Transparency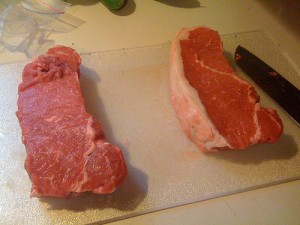 It takes someone with quite the cast iron stomach to hear the words "meat glue" and think "I want some of that".
There's a decent chance, however, if you've eaten meat, you've likely bitten into something held together by meat glue.
Why yes, meat glue is not the product of dystopian novel but is rather a very real product.
Officially meat glue is a transglutaminases enzyme derived from pig and /or beef blood. When sprinkled on scraps of meat, which are then pressed together using plastic wrap or a mold, the result is a structured steak.
It's molecular gastronomy gone awry.
While it's still far less gross than pink slime - the fatty slaughterhouse trimmings once relegated to pet food, that are now thrown into a centrifuge to remove fat, and treated with ammonia to reduce spoiling that comprises most American hamburgers – it suffers from similar problems.
Namely, meat glued steaks have higher bacterial counts than normal steaks. This is structural. In meat most of the bacteria lies on the outer surface. Since meat glue steaks are comprised of many pieces of meat, some of those outer surfaces end up in the interior of the steak. The outside bacteria goes inside. And, since they don't have require labeling, unaware citizens can easily undercook the steaks exposing themselves to potentially serious health risks.
Meat Glue – once you get past the name – is not that gross. We have, after all, molded scraps of waste meat together for centuries.
It's called sausage.
What is problematic, however, is the hidden nature behind meat glue. It's a transparency problem in which it is decided that individuals simply don't need to know what they're eating.
And that's problematic.
Photo Credit: Sarae