Merck Shines with Green Energy Systems for its Buildings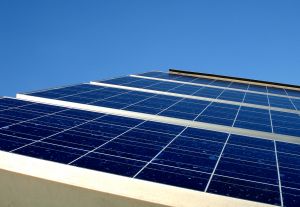 Merck & Co. tops the Justmeans' list of Global 1000 Sustainable Performance Leaders. This includes its environmentally conscious efforts to create greener buildings that leave a minimal carbon footprint. The company has adopted a comprehensive approach to combine energy conservation with the use of renewable energy resources as a part of its commitment to minimize its impact on climate change. Merck says that efficient energy management is a part of its core values as a responsible health care company.
One of the exceptional landmarks achieved by Merck in its pursuit of energy efficiency has been the installation of solar energy systems to power its world headquarters in Whitehouse Station, N.J. It is one of the biggest ground-mounted solar tracking systems in the world created in a corporate setting. It includes about 7,000 moving solar panels that tap sunshine to generate 2.5 million KWH of energy every year.
Merck believes the use of solar energy to power its corporate buildings is not only great for the environment, but it also makes good economic sense for the company. The use of solar power for Merck's headquarters is an outstanding example to encourage other large companies in the United States to consider this option for their buildings. Greening the environment cannot be the responsibility of the government alone, and Merck is showing the way how the private sector can make a significant contribution to bring real positive change.
In March, 2010 Merck received the Energy Star Sustained Excellence Award from the U.S. Environment Protection Agency (EPA) for its consistent efforts to protect the environment through energy efficiency practices. Merck has been an Energy Star partner since 2004. During this period it has received recognition from the EPA twice as the "Partner of the Year". The Energy Star award of the EPA is recognition for the various energy efficiency programs initiated by Merck to reduce the impact on the environment by introducing optimal energy use strategies, minimizing water usage and making use of renewable sources of energy such as solar power.
Photo Credit: dynamix