Mobile and Responsive: Envisioning the 21st Century Sustainable City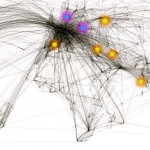 By: Meirav Even-Har, Toronto
In 2010 the world's urban population surpassed those who live in rural areas. "In the next four decades, all of the world's population growth is expected to take place in urban areas..." By necessity, increased resource pressures call for new ideas and ways of doing thing.
Enter MESH Cities. Its mission: "...to help distribute the methods and technologies that will shape the design of tomorrow's responsive, sustainable cities." Curious to learn more, I spoke with founder Robert Ouellette about MESH cities and why reinventing the urban community is more critical than ever.
Defining MESH Cities
The idea of MESH Cities is about opportunistic innovation and change. Creating an environment that enables people to contribute and use technology for a more liveable, responsive city. MESH is an acronym for Mobile, Efficient, Sustainable and Heuristic.
Mobile: we live in an amazing era where we are connected 24/7 to our mobile devices and a technological revolution is taking place under the general use of the Internet.
Efficient: we want our cities to use available resources efficiently and effectively.
Subtle: Where all systems anticipate the needs of their users. For example, the Swiss transit system is efficient and on time, which allows people to not think about it - the system anticipates its customers' needs.
Heuristic: This, in effect, is what we want cities to do. To be in a state of constant improvement, optimizing social functions.
MESH or Smart Cities?
Having heard the term "Smart City" several times, I was interested whether MESH Cities are different than Smart Cities. "They are significantly different," Ouellette notes. He explains that Smart Cities still use the industrial civic infrastructure paradigm. "Appropriated by large companies and institutions, the Smart City concept is a top-down, business-led model for policy and development."
MESH cities allow for a more user-driven, bottom up, innovative approach. "What a MESH City does - and therefore distinguishes it from a Smart City - is it allows for innovation to come from the people who live in it," Ouellette remarks.
Ouellette also clarifies that current city infrastructure isn't going away. Therefore, by necessity we need big players capable of managing it. That being said, some large companies are beginning to focus their attention on how to fine-tune municipal infrastructure. They also increasingly invest in intelligent and feedback systems.
Rethinking Resource Distribution
One of the motivations and the tag lines for MESH Cities is William Gibson's quote "The future has arrived, it's just not evenly distributed," Ouellette clarifies by noting that we have technologies available to us that can solve environmental issues. For a host of reasons, the information for those solutions is not being disseminated or that people don't know about it. "A MESH City is where this information is understandable and available through mobile technologies."
It seems that places with resource constraints or challenges are places ripe for advancements in MESH Cities. Ouellette points to cities like Copenhagen and Stockholm that built a civil infrastructure that in many ways looks like a MESH City. He explains that northern countries are faced with environmental limitations not shared by southern nations. "It is about doing more with less by bringing intelligence, innovations and social input to solve these problems."
What about business?
Business has a huge role to play when it comes to MESH cities, Ouellette says. He sees the MESH City as a driver for industry. "As time goes on we will be more and more challenged with growing population and resources challenges. There are infinite numbers of business opportunities." He concludes.
MESH Cities invites people to contribute solutions or just good ideas about making cities more inhabitable. To learn more go to: http://www.meshcities.com/
###
NOTES
UN Department of Economic and Social Affairs, Population Division: Population Distribution, Urbanization, Internal Migration and Development: An International Perspective http://www.un.org/esa/population/publications/PopDistribUrbanization/Pop...
MESH Cities: Mission statement. http://www.meshcities.com/
MESH Cities: About MESH Cities. http://www.meshcities.com/index.php/meshcities/about