Montreal NGOs Find New Home In Sustainable Building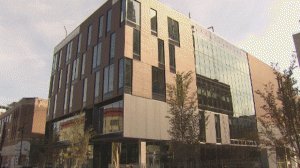 NGOs dedicated to sustainability and human rights have found a fitting home in a new, sustainable building in Montreal that cost $27 million to build.
The five storey, 65,000 square feet building, which has been named Centre for Sustainable Development (Maison du développement durable) and which opened its doors last week, is the brainchild of the directors of environmental group Equiterre, who needed a more suitable, greener space for their office, said the Montreal Gazette.
But the idea got much bigger than they had initially envisaged. Equiterre realized that other eight non-profits shared the same goals and vision, and together they could build something bolder  as well as educational. Fast forward a few years and the Centre is now standing as a kind of shop window for information about sustainable living. It's a green marketing coup.
Amongst the organizations housed there are Amnesty International, David Suzuki foundation, ENvironnement JEUnesse CRE Montréal (which gathers local environmental organizations) and The Regroupement de services Éco-quartier (a coalition of neighborhood environment groups).
Hydro-Québec donated the land which the Centre occupies on Ste. Catherine St. at Clark St. The goal is to operate a platinum LEED (Leadership in Energy and Environmental Design) certified building that will serve as a focal point for thinking, education, innovation and meetings on sustainable development in Montreal.
"One of the reasons we built this is to inspire people from the building industry citizens in general to see how far you can go in making buildings greener," Équiterre's executive director Sidney Ribaux told CBC News Canada.
By the sounds of it, it will not only be a source of inspiration, but also action-taking. Besides featuring a green rooftop, living walls with built-in hydration systems, being heated with geothermal power and featuring recycled or repurposed materials, the architects deliberately left out a parking lot and instead favored a bicycle parking space. They had to get an exception to municipal bylaws to do that.
The Centre is near two subway stations, so commuters can also use public transport when cycling is not viable in wintry Montreal.
There is a communal aspect to the building as well, as it is collectively owned by all the organizations that have made their homes there.
"Now that construction is finished, we are working on our programming, both for the general public and sustainability stakeholders", said Mr. Ribaux. He also announced a week-long Open House starting October 17.
In addition to presentations by Steven Guilbeault of Équiterre, Béatrice Vaugrante of Amnesty International, cardiologist Dr. François Reeves and eco-sociologist Laure Waridel, there will be films (Home and Sagacité), tours of the building, workshops, "5 à 7", games, and samples of fair trade and organic products. The activities reflect the focus areas of the organizations.
The Centre will also host several other major events this fall, including the Interactive Sustainability for Leaders course by Natural Step Canada, the Provincial Climate Leadership Conference (Climate Action Network Canada), an awareness-raising event for Quebec businesses (1% for the Planet), and Amnesty International's letter-writing marathon on International Human Rights Day.
Image credit: Maison du développement durable