Obama's High Speed Rail Plan is a Key Step Forward in Sustainable Development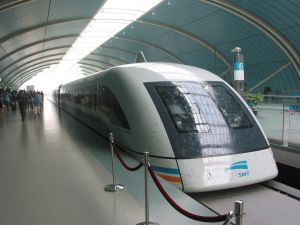 President Obama's recent announcement of a $53 billion high-speed rail plan for the American people reflects a planet-friendly vision for the future. The ambitious plan aims to provide 80 percent of Americans access to high-speed rail over the next two and a half decades. The plan accords an equal priority to high-speed rail development along with other surface transportation programs. The plan will be implemented in phases, with the first six-year phase being allocated an investment of $8 billion in the president's forthcoming budget proposal.
The White House has stated that the allocated funds will be used to identify and develop corridors for a state of the art high-speed rail, while increasing speeds on the existing rail lines. The funds will also be used to provide resources to communities that may join the national high-speed rail network. The Secretary of Transportation Ra LaHood has stated that this investment will lead to creation of jobs in the areas of manufacturing, construction, and operations.
Studies indicate that oil consumption per capital in the United States is more than twice than in Europe where rail systems are well developed. The most direct benefit of a high-speed rail system in the U.S. will be a reduced dependence on oil imports. This will improve global competitiveness, in addition to job creation due to large public investments. The environmental conservation and climate change management benefits are going to be equally substantive.
The Obama plan underscores obvious environmental advantages such as reduced car travel and air travel, lesser congestion and lesser incentive for the creation of urban sprawl. But the plan also notes a specific study that has estimated that upon the implementation of the HSR plan, it could effectively result in an annual reduction of 6 billion pounds of carbon dioxide. The International Union of Railways (UIC) Director General Jean Pierre Loubinoux has endorsed the plan by stating that a high performance railway system "will constitute one of the pillars of US policies for transportation and sustainable development."
The Environmental Law and Policy Center (ELPC) Executive Director Howard Learner also lent his explicit support to the plan when he said, "The Obama Administration's plan to invest $53 billion in high-speed passenger rail is a transformative commitment that will bolster the American economy, create jobs and give people a much-needed third transportation option for better mobility." ELPC has been rooting for a high-speed rail for more than a decade. Learner is nationally recognized for his views on fast train transportation as a means to promote sustainable economic development. This breakthrough plan from the Obama Administration has been receiving whole-hearted approvals from environmental and sustainable business experts from around the world.
Photo Credit: athewma