Obama's High Speed Rail Project: Transformational or Just a Good First Step?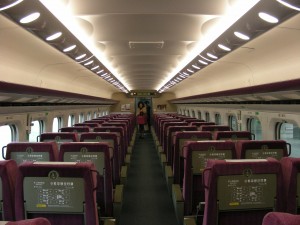 Obama's High Speed Rail Plan: Good First Step but not Transformative
President Obama has made a commitment recently to get the U.S. to catch up with Europe and other industrialized nations by investing in high speed rail.  While investing in high speed rail makes sense from a global economic competitiveness standpoint, the questions is:  Does the plan proposed by President Obama help move the U.S. forward to a significant degree or to a small degree toward investments in alternative, green transportation?
In essence, is President Obama's high speed rail project transforming or just a relatively small but important step toward investments in alternative transportation?  That question is one being debated by critics and proponents alike.  On the one hand, some proponents of President Obama's $8 billion high speed rail plan like Howard Learner argue it is "a very important beginning (and) a giant step forward in the transformation of our nation's transportation system."
However, to truly transform the U.S.'s transportation system according to some experts, "the cost would be at least $100 billion." Thus, Obama's plan may not amount to much since to get a comprehensive high speed rail system in the U.S., $8 billion is clearly insufficient for doing so. The argument between proponents and opponents of Obama's high speed rail plan revolves around answering:  Does his plan go far enough to transform the U.S. transportation system?  The answer to that question is clearly not.  A true investment in something as transforming as high speed rail will require much broader thinking than what Obama has thus far proposed.
Thus, an $8 billion investment in high speed rail feels more like a small scale project done in a few regional areas, but not for the nation as a whole.  Having said that, the mere fact President Obama has pledged any money for high speed rail is better than the alternative of no funds put forward.  As such, the argument is one of some funding is better than no funding at all.
But when proponents say that Obama's initiative is transformative, there characterization is inaccurate.  Obama's plan is not similar to President Eisenhower's transformation of our interstate highway system which involved a lot more capital investment than what has been proposed thus far for the high speed rail project.  At best,  President Obama's plan is a good first start and a move in the right direction.  Moving forward even if it is by a small step is clearly better than taking no step at all.  What President Obama and his advisers must do, however, to truly invest in high speed rail is commit more funds than what they have currently proposed.