Offshore Wind Surges: China's Along for the Ride, Will America Join the Party?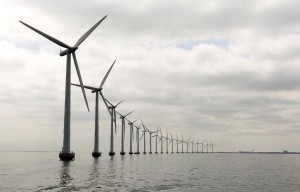 "If passed, this bill would help transition America off fossil fuels, stimulate a new manufacturing sector and put people back to work." -- Jacqueline Savitz, senior campaign director, Oceana
Last year, China surpassed the United States to become the world's number one producer of wind energy. 2011 projections estimate China to maintain first place with 55,000 MW of installed windpower capacity, with the United States coming in second place with 45,800 MW. Also last year, China beat America to the offshore wind punch, completing their first offshore wind farm. And while there are projects in development in Massachusetts, Rhode Island and New Jersey, in addition to the Atlantic Wind Connection, a planned electrical transmission backbone that will serve offshore wind farms, the US has still not installed a single offshore wind turbine.
To make matters worse, at the end of 2012, the US investment tax credit for offshore wind will expire. Oceana, the world's largest international organization devoted exclusively to protecting the Earth's oceans, said in a statement, "This unrealistic deadline currently makes the financing of offshore wind projects nearly impossible." But if a new bill passes, the American wind power industry will get a much-needed breath a fresh air.
Introduced by Senator Thomas Carper (D-Del.) and Representative William Pascrell (D-NJ8) with bipartisan support, S. 1397/HR. 3238, the Incentivizing Offshore Wind Power Act, would extend the US tax code to give wind energy producers a tax credit of 30 percent of qualified investments for the first 3,000 MW of offshore wind facilities placed into service -- approximately 600 wind turbines. Once awarded a tax credit, companies will have 5 years to install a wind facility located in the nation's inland navigable waters, including the Great Lakes, or in the coastal waters, including territorial seas, exclusive economic zones (EEZs) and the outer Continental Shelf.
IN WIND ENERGY, CHINA IS PACESETTER
The first half of 2011 saw 15 percent more new wind capacity added worldwide than the same period the previous year, reaching 215,000 MW. While it may sound like a lot, that amount could only power New York City for about 10 years. And considering China's rapid wind energy installation pace, it will not be easy for the US to regain the top spot. In the first 6 months of 2011, China accounted for 43 percent of the global market for new wind turbines, according to the World Wind Energy Association. But ultimately, it's not a race. It's about sustainable development making the transition to low carbon economies (LCEs), creating jobs and spurring economic growth along the way.
"Our legislation will help to achieve the twin goals of job creation and increased renewable domestic energy production," said Rep. Pascrell, who sits on the Ways and Means and House Budget committees. "The heart of our economic recovery must be to look towards new technologies and sustainable industries that will assist in the resurrection of domestic manufacturing and bolster a future green jobs economy here at home in the United States."
NOT ONLY JOBS AND CLEAN ENERGY, BUT POSITIVE ENVIRONMENTAL IMPACTS
Unlike land-based wind turbines, which have killed countless bats and migratory birds, offshore wind turbines -- after creating an initial disturbance from their construction -- function as artificial reefs that support local populations of fish and shellfish. "Results from studies on foundations of wave energy converters confirmed that the structures are rapidly colonised by epifauna, fish, and crustaceans, with increasing diversity over time," according to a report by the International Union for Conservation of Nature (IUCN), which maintains the definitive list of the world's endangered and threatened species.
Oceana has created an online petition so that American citizens can sign a letter urging their senators to vote for the bill. "Not only is offshore wind power a clean and limitless energy source, but because it is a new industry in the US, it will create hundreds of thousands of American jobs in order to manufacture all the necessary parts, install and construct the offshore wind farms, and operate and maintain the wind turbines once they have been constructed," the letter states. "The infusion of a new and sustainable industry in this country will inevitably lead to much-needed job creation and economic development, all while preserving and protecting the environment."
###
NOTES
http://na.oceana.org/en/news-media/press-center/press-releases/bipartisan-house-bill-seeks-to-jump-start-us-offshore-wind-development
Ibid.
http://www.govtrack.us/congress/bill.xpd?bill=s112-1397
http://www.govtrack.us/congress/bill.xpd?bill=h112-3238
http://engineering.mit.edu/live/news/872-how-many-wind-turbines-would-it-take-to-power-all
http://www.wwindea.org/home/images/stories/publications/half_year_report_2011_wwea.pdf
http://www.capemaycountyherald.com/article/government/washington+dc/77255-reps.+pascrell+and+lobiondo+introduce+legislation+encourage+wind+power+investment
http://data.iucn.org/dbtw-wpd/edocs/2010-014.pdf
http://act.oceana.org/letter/l-wind/
image: Middelgruden Offshore Wind Farm in Denmark (credit: UN Photo/Eskinder Debebe, Flickr Creative Commons)