Patagonia in Canada: Toronto Store Makes Sustainability A Driving Goal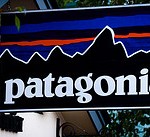 By: Meirav Even-Har, Toronto
The Patagonia activewear brand and story is well known and is synonymous with corporate sustainability and citizenship. In Canada, Patagonia is the new kid on the block. Literally. Its first retail store opened less than two years ago in the vicinity of Europe Bound and Mountain Equipment Co-op. But already the store has become a hub for raising environmental awareness and advocacy activity. In a phone interview with Andrea Reekes, manager of the Toronto Store, she explains how the brand and mission is interwoven with sustainability.
Building a Toronto Patagonia community
As part of establishing its retail location in Toronto, Patagonia sent a training team that included product knowledge and sustainability specialists. "There was a great amount of training, especially about company values," Reekes recalls. "Who we are and how we can live our mission statement. In turn, we share that with our customers at the store. A lot of folks want to hear more about what we do as a company," she explains.
The Toronto store's aim, I'm told, is to become a community hub for environmental advocacy and awareness through events and customer dialogue. "We're making it our mission to reach out in the city and eventually throughout the province to inspire change." Reekes notes that community outreach is an important CSR program with support from head office.
"We have worked with 40 Environmental NGOs in the Toronto area." Specifically, the store invites groups to participate in Enviro Saturdays by setting up a table with campaign materials. "It is our busiest day so they have a good opportunity to reach out to a large group of customers," she says. The store provides a Patagonia product for a raffle to encourage membership sign-up, signatures on petitions, or whatever the group is looking for in the way of support. Materials are also kept in a binder so that the message is there beyond Saturday.
Beyond Enviro Saturday, Toronto Patagonia provides outreach support to local groups. Store staff helps spread the word about an environmental campaign or community initiative via Facebook and Twitter. "We have a very engaged staff team at the store and in our head office. Most often, it is staff that brings an idea for a campaign that we should support," Reekes proudly notes.
A central corporate program is 1% for the Planet. 1% of sales go toward funding hundreds of environmental groups worldwide. Through this program the store provides funding for local grassroots campaigns. Both staff and the community participate in the process of selecting grant recipients.
The Growth of Conscious Consumers
I was curious to hear Reekes' observation of the "green" consumer, as she works in the retail environment. "There is definitely a rise in conscious consumerism," she replies. Store staff is regularly asked about how things are made and how products are disposed of. Consumer questions are also getting more sophisticated. "We have the resources online and with head office to answer any inquiry about our products, even if it takes a day or two. The growth trend of conscious consumerism is encouraging."
She concludes by noting that collectively, "We have to change the way we do business." As a certified Benefit Corporation (B-Corp) business, Patagonia is also reaching out to the larger community about shifting from a shareholder to stakeholder focused business model.
With so much contribution to the local community and a truly inspiring story, it's been good to welcome Patagonia to our Canadian city.
###
NEW PUBLICATION FROM PATAGONIA BOOKS: The Responsible Company: What We've Learned from Patagonia's First 40 Years
To learn more about Patagonia's Corporate Responsibility: Click HERE
To learn more about B Corps visit: http://www.bcorporation.net/
Image: Patagonia Wood Sign by Patagonia Wood Sign (via Creative Commons on Fickr)