Pedigree and Annie Join Hands on Socially Responsible Project for Shelter Dogs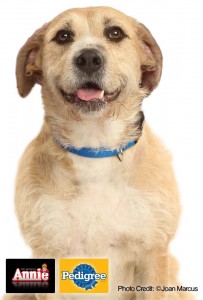 This may come as a surprise to many musical fans. Since 1977, when Annie debuted on Broadway, Sandy, Annie's adopted and loyal furry friend, has been played by real shelter dogs. Keeping up with the tradition, Tony winner dog trainer William Berloni has found and will train Sunny, a dog rescued from a shelter in Houston to star as Sandy in the production of Annie. Her understudy, Casey, was also rescued from a shelter near Nashville, Tennessee.
Pedigree provides professional nutrition to the canine stars through its Food for Dogs and they are trained for their stage roles with treats from the brand. "We are extremely excited to have the Pedigree Brand as our partner because of our shared interest in finding homes for shelter animals," Annie producer Arielle Tepper Madover said. "Annie is about a girl and her dog desperately seeking a place to call home, and we're hoping Sunny's story inspires audiences to consider adopting their next pet."
In fact, anyone who sees the new staging of the musical will be helping homeless dogs. Pedigree and Annie have launched an initiative to raise $1 million to help dogs find suitable homes. For that purpose, for each ticket sold through December 31, 2013, Pedigree will donate $2, up to $1 million, to Pedigree Foundation, the company's charity arm dedicated to finding homes for shelter dogs. In addition, co-branded merchandise will be available at the theatre and online with 100 percent of the proceeds going to Pedigree Foundation.
Annie opens on November 8 at the Palace Theatre (1567 Broadway at 47th Street) while previews begin October 3.
Image credit: Pedigree Foundation