Pipe Wars Part IV: Keystone XL, Northern Gateway Find A Friend With Canadian Government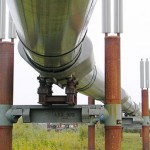 By: Meirav Even-Har, Toronto
Over the past few weeks this blog series is taking a deeper look at some of the issues surrounding two highly controversial projects to ship crude from the Athabasca oil sands. The Keystone XL pipeline, by TransCanada Corporation, will transport Canadian oil to the United States, while the Northern Gateway project - headed by Enbridge Inc. - includes the construction of two pipelines connecting the oil sands to the Pacific coast for shipping to California and Asia.
In addition, Enbridge, along with Huston's Enterprise Products Partners LP, are planning to build two pipelines that will move as much as 850,000 barrels a day from Canada to refineries along the Gulf Coast by mid-2014. All this activity is signalling oil sands expansion, and so far, industry and the Alberta government have showed no sign of a slowed-down approach. A third party - the Canadian government - has cemented its position amongst industry with a growing voice that calls for expanding the oil sands. Canadians may be left to wonder whose mandate is it to look out for their best interest, in the absence of a balanced approach by elected officials.
The 2012 federal budget provides the perfect recipe: cuts to the federal Environmental Assessment Agency by 40%, and accelerated approval process for natural resource projects, including reviews on projects that are underway, such as Northern Gateway. To inject even further clarification to the manner, Prime Minister Harper voiced his opinion during a recent talk at the Woodrow Wilson Centre: "The Canadian government isn't going to change course on a plan to increase oil exports to Asia, even if the U.S. approves a plan by TransCanada to build the Keystone XL pipeline." His comments reiterated that Canada's energy security is tied with natural resource development and a plan to "balance the books" 2015-2016.
Opposition to both projects in the U.S. and Canada has attracted continuous media coverage, commercials and newspaper ads, as well as campaigns to convince Canadians and Americans that the projects are a blessing or curse, depending on who's talking. Proponents suggest the projects will create numerous jobs, elevate local economies and strengthen energy security. Opponents raise concerns over health to people, wildlife and the environment at large. Both sides present strong arguments to different groups; at the heart of it is whether the oil sands should expand at such a rapid stage. How does anyone know what is the right choice?
For Canadians, that is where the Canadian Environmental Assessment Act (CEAA) comes in. It places duty on the federal government to ensure there are checks and balances that include environmental to social indicators, in the approval process. CEAA is not perfect, but it is an important component of environmental due diligence especially in a country such as Canada rich in natural resources, and often conflicted about development.
Federal oversight of large resource projects, such as Keystone XL and Northern Gateway is important because it provides a balanced approach to the approval process. Alberta, home of the oil sands, is poised to gain $1.2 trillion over 35 years in royalties. It has, and continues to experience, an economic boom, which is fuelling the government's push for sector growth. That is where a strong federal legislation makes all the difference. A voice for balance and due diligence that ensures long-term implications and prosperity are also accounted for.
As long as the federal and provincial governments continue with the current strong push for oil sands growth and expedited project approval process, little trust can be gained with citizen and environmental groups. It harms us all when governments and industry speak with the same voice. Unlike industry, it is the job of elected officials, whether provincial, state or federal and from both sides of the border, to represent voters.
###
This is Part IV of a series about oil sands pipelines construction, one of the most hotly debated issues in Canada and the U.S., which examines the arguments for and against the Keystone XL and Northern Gateway projects.
Part I: Keystone XL and Northern Gateway Keep Oil Sands a Hot Topic in Canada
Part II: Will "Job Creation" Make or Break Oil Pipeline Projects in Canada and U.S.?
Part III: Environmental Cost-Benefit Is More Than Just a Pipe Dream?
NOTES
The Wall Street Journal: Planned Pipelines to Rival Keystone XL http://online.wsj.com/article_email/SB1000142405270230417710457730598079...
The Pembina Institute: Budget 2012: Canada won't spare a penny for clean energy http://www.pembina.org/blog/616
CBC News: Stephen Harper Takes Oilsands Message to American Audience http://www.cbc.ca/news/politics/story/2012/04/02/harper-3amigos.html?cmp...
CBC News: Stephen Harper Takes Oilsands Message to American Audience http://www.cbc.ca/news/politics/story/2012/04/02/harper-3amigos.html?cmp...
The Huffington Post: Alberta Oil Sands Royalties To Bring In $1.2 Trillion Over 35 Years: CERI http://www.huffingtonpost.ca/2012/03/27/alberta-oil-sands-royalties-ceri...
Photo by (c)2005 Derek Ramsey (Ram-Man) (Own work), via Wikimedia Commons