Raising Capital in the Capital: Kiva's Microlending Program Comes to Washington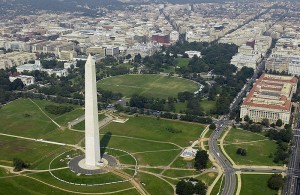 Now anyone in the world with an Internet connection and $25 can help fund loans to support small business entrepreneurs in America's capital
When you think about Washington, DC, you probably think about the things that make it America's seat of power: The Capitol Building, the Pentagon, the White House. But part of what keeps the city running are the some 60,000 small businesses that help grow the fourth-largest metropolitan economy in the US.
And while the federal government accounts for around 29 percent of the capital's jobs, the city's small firms generally rely on commercial banks for small business loans. But there's a problem: According to the Small Business Administration (SBA), over the last decade of so, the number of banks in the District of Columbia has declined.
Help is on the way, but quite in the opposite form of a commercial bank: a microcredit non-profit called Kiva.
KIVA: INSPIRED BY THE FATHER OF MICROFINANCE
Soon after Matt Flannery, a software engineer, and Jessica Jackley, a staffer at Stanford Business School's Public Management Program, got engaged in 2003, they attended a talk by Dr. Mohammed Yunus, the Bangladeshi economist, Nobel laureate and founder of Grameen Bank known as "the father of microfinance."
For Flannery, who at the time had a goal of coming up with a new business idea every day for a year, Yunus's presentation about how he started Grameen Bank to help people escape poverty through microlending was a revelation. After interviewing entrepreneurs in East Africa, the pair saw a common theme: a lack of access to start-up capital for launching new ventures. Two years later, they founded Kiva, a non-profit organization that gives anyone with access to the Web the opportunity to lend money to entrepreneurs in developing countries. Unlike traditional microfinance firms, Kiva powers microlending with crowdfunding.
What also makes Kiva different is that, being a non-profit, it does not collect any interest on the loans it facilitates. Instead, the San Francisco-based company is supported entirely by grants, loans and donations. Additionally, it doesn't make the loans directly, instead connecting individual microlenders with microfinance institutions around the world (called "field partners"). Also, Kiva has succeeded in making microfinance about individuals, sharing the personal stories of each person seeking a loan to potential lenders.
To date, Kiva has distributed almost $400 million in loans from more than 960,000 lenders. The average loan size is $402.24 and the current repayment rate for all its partners is over 99 percent.
A GLOBAL BUSINESS FOR LOCAL GROWTH
From Azerbaijan to Bolivia, Iraq to the Philippines, Kiva has over 100 field partners around the globe. And the firm has taken its success helping entrepreneurs in developing countries and applied it to small business entrepreneurs in the United States, launching metropolitan microlending programs in Los Angeles, Detroit and New Orleans.
Now, Kiva is introducing small business owners in Washington, DC, to a global audience with a new microlending program in partnership with Capital One Bank and the Latino Economic Development Center (LEDC). LEDC's Community Asset Fund for Entrepreneurs will identify qualifying DC-area borrowers, administer the loans and post profiles of each small business owner online at kiva.org. Throughout 2013, Capital One will match every dollar lent to small businesses posted by LEDC (estimated to reach a $150,000 matching commitment). In addition, the bank has donated $100,000 to support the launch of Kiva City DC.
"Capable entrepreneurs of diverse backgrounds are often excluded from accessing business loans through the formal financial sector," said Manny Hidalgo, LEDC's executive director, noting that these loans "will make a big difference in the lives of their families and the health of their communities."
The DC region is a logical choice for supporting small business. According to the SBA, "The region boasts the most-highly educated workforce in the country, with a higher percentage of residents employed in the 'knowledge industries' of communications, IT, biotech, and aerospace than in California's Silicon Valley or the well-known tech belts outside Boston and Seattle... is also home to the United States government, the world's largest customer."
"This initiative gives everyone a chance to help make a difference in the life of D.C.'s economy...making it possible for each of us to support local small business owners and hear their stories as they work to serve their communities," said co-founder Flannery, who serves as Kiva's CEO.
WHY WOMEN: KIVA'S FOCUS ON FEMALE ENTREPRENEURSHIP
Recognizing the added socioeconomic value of supporting women, Kiva has a strong focus on female entrepreneurship. As they note on their website, "Research shows that when a woman contributes to her family's income, she reinvests at least 70% of her earnings to build a better future for herself and her children." Businesses owned by women represent one of the fastest-growing segments of the US economy.
The SBA further notes that research done by the National Women's Business Council (NWBC) has found that "more than half women business owners use their personal or family savings to start or acquire their business." And studies conducted by the SBA and the US Department of Commerce have shown the "importance of lower dollar loans to small business formation and growth in underserved communities."
There's another reason that Kiva and DC are a perfect match: There are more women-owned local businesses in Washington, DC, and the neighboring counties that anywhere else in the United States, according to the US census.
Kiva was named after the Swahili word for "unity." But it also has another meaning: For modern Hopi and other Pueblo people, a kiva is a room used for spiritual ceremonies and other purposes that are communal in nature. This other meaning also fits the organization's theme of bringing people together under a shared goal. There is one main difference, however. The Puebloan kiva is for males only.
###
NOTES
Small Business Administration. District of Columbia Small Business Profile. SmallBusiness.com. February 20, 2010. Accessed January 22, 2013.
United States Bureau of Economic Analysis. Gross Metropolitan Product. BEA.gov. September 29, 2011. Accessed January 22, 2013.
District of Columbia Department of Employment Services. Wage and Salary Employment by Industry and Place of Work. DC.gov. 2012. Accessed January 23, 2013.
Ibid., 1.
Matt Flannery. Kiva and the Birth of Person-to-Person Microfinance. MIT Innovations. Winter & Spring 2007. Accessed January 22, 2013.
Kiva. Kiva City D.C. Launches to Bolster Small Business Growth in Greater Washington, D.C. Area. Kiva.org. January 8, 2013. Accessed January 23, 2013.
Ibid.
Small Business Administration. Small Business Resource. SBA.gov. Accessed January 22, 2013.
Ibid., 8.
Kiva. Educate a Woman: Watch the Ripple Effect. Kiva.org. September 12, 2012. Accessed January 23, 2013.
Small Business Administration. SBA Celebrates Women's History Month. SBA.gov. March 27, 2012. Accessed January 23, 2013.
Small Business Administration. Women Entrepreneurs Summit Series Report. SBA.gov. March 22, 2006, Accessed January 23, 2013.
Ibid., 9.
image: Aerial view of the Washington Monument with the White House in the background, Washington, D.C., Sept. 26, 2003 (credit: U.S. Air Force Tech. Sgt. Andy Dunaway, Wikikmedia Commons)