Rip Curl Pro Search 2011: A New Wave In Sustainability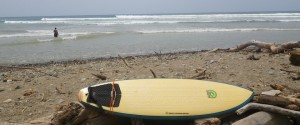 The general perception may be that surfing is an inherently sustainable sport. After all, besides a board and some gear, all it takes is human and tidal energy to practice it. And how about surfers and their nature-loving ways?
But apparently there's room for improvement as far as sustainability is concerned and so Sustainable Surf was born. The non-profit's mission is to transform the "surf industry toward sustainability, and help global surf brand Rip Curl to develop a comprehensive sustainability plan for the Rip Curl Pro Search in San Francisco," which takes place between today and November 12th. (Watch it live here)
To score higher on the sustainability stakes, the organizers of the competition have introduced several innovative sustainable and socially responsible measures.
Biodiesel is helping power the live webcast and on-beach infrastructure. The raw material, that is, waste grease, is supplied by local restaurants. This aspect of Rip Curl's sustainability project has been enabled by SF Greasecyle program, and is being supplied to the contest by People's Fuel Cooperative. Waste grease biodiesel emits 80% less greenhouse gases than conventional diesel fuel.
The organizers don't want waste being left being on the beach by spectators and are aiming for a 90% waste diversion rate. Local non-profit Wastebusters are staffing event waste bins where people will be encouraged to recycle or compost their waste. The total weight of recycled material, composted material, and garbage will be recorded and published at the conclusion of the event.
Part of the waste is being upcycled, that is, transformed in finished retail goods. The Rip Curl Pro Search is using a local California vendor to convert contest banners into surfboard bags and tote bags. In all, 8,000 square feet of PVC banners will be donated to The Progress Project, based in Encinitas, CA.
In keeping with the street cred that surfing enjoys, the competition hosts what they call the first ever skateboard valet, in addition to bicycle valet services provided by the SF Bicycle Coalition.
Ocean Beach is famous for its ferocity and the consequence is a great deal of broken boards. ReRip is collecting broken boards from the professional surfers, repairing them before donating them to deserving kids.
Besides all these initiatives the Rip Curl Pro Search will be carbon neutral through the purchase of high quality verified carbon offsets. The public is being encouraged to use all types of alternative transportation to get to the event. There are water stations on the beach and in the parking lot, and Rip Curl is selling branded stainless steel reusable water bottles as an alternative to single-use plastic water bottles.
Finally, Rip Curl is sponsoring beach cleanups and supporting local non-profits such as the Surfrider Foundation, Save the Waves, and others who are making a difference in protecting the ocean environment.
Image credit: Sustainable Surf