SMART_2011 Got UK Businesses to Think About Social Media Trends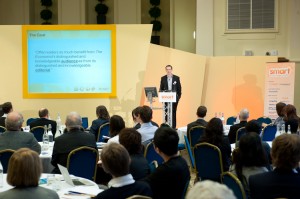 What if I told you I was in a room with Mashable, Google, Youtube, Yahoo!, The Times On-line, Nokia...no it is not one of my weird social media trend fantasies! I was at Incisive Media's inaugural SMART_2011 conference in Central London on 20 January, with 175 participants from the world of finance, law and recruitment who all wanted to learn more about social media and how to use it to deliver business strategies. This interactive forum addressed topics such as the risks surrounding social media trends to legal compliance, how to increase client reach, examples of best practice and wisdom from leading experts and brands. We were given clickers to vote on questions and 43% of the audience did not have a social media strategy and 36% of the participants saw that not having a social media presence was a risk! A good start to SMART.
I attended a breakout session with Benjie Fraser, MD at JP Morgan who highlighted that the US is light years ahead of us in the UK in the world of social media and while we on this side of the pond are still toe dipping, it is the norm in the States and businesses are far more innovative in their approach. In fact one financial institution has partnered with Disney as part of a social media trend initiative. UK business needs to change its thinking, get over the risk fear and start engaging on-line with customers through conversations. JP Morgan has seen and reaped the benefits, opening new doors in Europe. Benjie Fraser said JP Morgan's work was still evolving, but in his opinion what's key about conversations online is the tone of voice and thoughtful blog posts. JP Morgan's online success has given it the confidence to experiment.
I am now going to zip to a piece of social media trends advice from Jeremy Fawcett, Finance Category Director, Yahoo! He stridently said, "Give up brand control you can then empower your brand."
It is now to the wisdom of the delightful Mark Squires, Director of Social Media, Nokia who personally thinks instant messaging could very be the future and that the future generation have no concept of brand loyalty. His advice is, "Business needs to get it own house in order before speaking to customers on social media platforms." Brands need to trust its staff to engage online and give them guidance. It's Mark's statement about the future that I feel is crucial..."soon our social identity will become embedded in the devices we carry."
SMART_2011 was exceptional and will be waiting for 2012. I leave you last thought's from the event about what our futures may hold with social media trends... 'start to see the integration of social media platforms, so all our conversations are had in one place, which means our identities will become more important and relevant; where we will have one sign on and where our corporate identity, and personal identity become one'. Oh! And 'SEO (Search Engine Optimisation) is dead'!
Photo Credit: SMART_2011