Social Media Ecosystems Driving Health Choices, Change, Business: Wellness Layers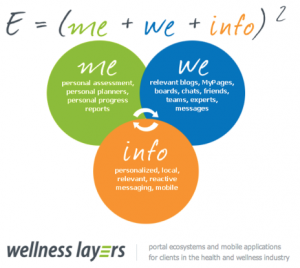 It's no surprise that social media and health and wellness are hugely popular topics right now. Part of that enthusiasm is the general feeling that we are on the verge of something big but….that we aren't quite sure what "it" is. Social media certainly has meaningful applications for improving health, but to date much of it has been either theoretical (would you Facebook friend your doctor? can Twitter track disease?) inhabiting a narrow niche ( health reminders), or lacking in evidence that it really provides desired benefits.
On the other hand, there's lots of evidence that social support is beneficial to health, and some evidence that social media may provide similar effects as the face-to-face variety.
Enter Wellness Layers, who create "portal ecosystems" and mobile apps to enhance consumer engagement for a host of health and wellness companies. Their basic approach is to take a clients typical attempts at social engagement: An anemic discussion board space, relatively lame Facebook site, and drab Twitter feed, and make, are you ready for this…. Relevant to the goals of the company and the real needs of its clients! How do they do this?

Clearly there's a complex backend in web design and analytics involved, but the overall principles are sensible, sustainable, and frighteningly simple. They work from their catchy concept of E=(me + we + info)2 . Essentially this asserts that to maximize Engagement you combine personal goals and health and wellness management plans ("me") with client-specific social engagement connecting clients and support staff ("we") and relevant, easily accessed "Info" customized to who you are and what you do--(when you search for information about a health topic, results are returned that reflect your personal preferences and details.) The  "power of two" indicates that the Engagement sum is essentially equal to way more than the sum of its parts, or "layers". (Better yet, here's their website, where they describe their formula). And there's good reason to believe the formula works.
They also realize the need to integrate different areas of the typical website and focus them on the overall organizational goals and high-value integrated experience. So instead of having a bunch of separate silos-- a place to post comments, another to download recipes, a library tab for information, and tools section for online widgets-- a Wellness Layered site is designed so that users feel less abandoned in a disjointed jungle of random information and apps, and more like they are guided by a logical ecosystem of coherent information where the "me", "we", and "info" coalesce as an integrated unit. Access through multiple media and mobile platforms is also provided, as needed to serve a mission-driven purpose. This seems key: The tools and environment support the goals.
They also encourage clients to create long-term strategic vision of where they want to take their social engagement. Why is this important? It allows you to build an engaging website today that will grow over time in a logical, coherent manner, rather than needing to be redesigned and re-launched every couple of years. New is good, but lets face it, if you want to develop long term relationships there needs to be some stability and familiarity.
Results.
They certainly seem to get results. Generally their goal is to drive online customer engagement online social from essentially un-measurably low (less than 1 percent), to mid to high double digit percentages. Proof? Dieting giant Nutrisystems, one of their clients, was able to increase customer engagement by some 800% with no other marketing efforts within three months after launch. (Nutrisystems currently has some 3 million folks interacting regularly on the portal by Wellness Layers.) Orders of Wellness Layers customers have also increased by up to 300 percent. And they report similar results from other clients.
From a business perspective this really rings the cash register, but public health folks should also take notice. By changing the way consumers and patients interact, socialize and develop relationships with a company website, Wellness Layers is driving behavior change: In this case more interaction but also purchases and revenue. Engagement leading to purchasing is important, and sometimes undervalued in health sciences. Purchasing means folks are being compelled to spend their hard earned resources based, at least in part, on a social experience in an information ecosystem. That's cool.
In addition to Nutrisystems, Wellness Layers has customers from across the spectrum, including hospital systems, employee wellness, grocery chains, and fitness and other businesses in the health industry.
Do you know of other innovators doing similar work to enhance the effectiveness of social media portals for wellness-minded companies?
Photo credit: Wellness Layers