Starbucks Gets Greener Stores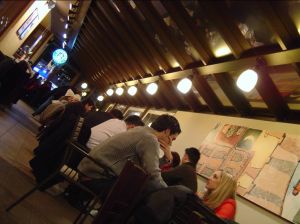 Starbucks has positioned itself as one of the most planet-friendly retailers by building and operating stores that minimize impact on the environment. Its new store designs emphasize on everything from green building materials and interior decor to water and energy conservation ideas to create highly environment-friendly stores. Starbucks has opted for LEED certification as a company-wide standard for all its new constructions. The company has been working closely with USGBC for several years to create a process that will pre-certify its green stores at the design, construction and operations levels.
LEED certification was traditionally considered difficult for the retail business, with a large number of retail outlets making it a cumbersome process to certify them fairly. Starbucks has been working with USGBC to create a volume-certification process, which will be followed by random checks and periodic reviews to ensure every store meets the high environmental standards that the company sets for itself. This has created a great opportunity for large retail store chains to participate in the LEED volume-certification program.
Starbucks is introducing innovative design elements to all its new stores that will help to reduce the impact on the environment. It is raising the temperature limits for air-conditioned stores to reach 75°F instead of 72°F on warm days. It plans to conserve water by installing low flow valves throughout the store, and using high-blast nozzles for cleaning instead of running water. It is cutting down the use of formaldehyde in its cabinetry, and aims to use 90 percent post-industrial material. It will make use of FSC-certified wood products wherever available, use recycled floor tiles and improve lighting efficiency in each store.
Starbucks also launched a path-breaking LED lighting conversion program at its stores in 2008. It has come up with a highly energy efficient LED product developed for its specific store requirements by GE. The product fits the existing lighting structures and replaces incandescent and halogen lighting with LED. The company has been converting thousands of its company-owned stores globally with LED lighting. The projected per-store energy savings are 7 percent, which will contribute to the company's ambitious goal of achieving 25 percent reduction in energy consumption.
Considering the fact that the company runs more than 16,000 retail stores around the world, its green building endeavors are bound to make a difference. Starbucks global support center in Seattle and its roasting plant in Sandy Run have both been awarded with LEED Gold rating. Using green design elements for all its stores and achieving leading industry-standard environmental ratings is a part of the Starbucks Shared Planet goal to significantly reduce its carbon footprint by 2015.
Photo Credit: gozdeo