Stephen Baldwin Complains of Rapid Misfire in Kevin Costner's BP Oil Spill Solution Deal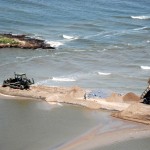 The actor Stephen Baldwin, last month, sued actor and director Kevin Costner in an assertion complaint that Mr. Baldwin was cheated out of profits from the oil-spill cleanup device referred to as the Costner Solution used by BP during the Gulf of Mexico oil spill last year. The federal complaint states that Mr. Baldwin was tricked into prematurely selling their interests in the company responsible for the development of the technology. Costner denies any wrong doing and his defense is moving to have the complaint dismissed.
ABC news reported back in May of 2010 that Costner had been funding a team of scientists for 15 years in hopes of developing a technology that could aid in cleaning the remnants of massive oil spills. CBS news stated that Costner invested over $24 million dollars in developing the technology. The Costner Solution has been reported as a powerful centrifuge capable of separating oil from water to collect in a separate holding tank for waste extraction. Ocean's Therapy Solutions, founded by Houghtaling and Costner, is the firm that developed this concept and the device was used by BP officials to help with the clean up off the coast of New Orleans last year. Houghtaling is the managing partner of Gauthier, Houghtaling, and Williams, a New Orleans business and personal injury law firm.
The 5-ton machine has a reported ability to clean water at the rate of 200 gallons per minute or 210,000 gallons of polluted water per day. Contingent upon the oil to water ratio, it is estimated that the machine has the ability to extract 2,000 barrels of oil a day from a spill. BP contracted 32 centrifuges for use in the clean-up efforts. The product's inception was inspired by the 1989 Exxon Valdez oil spill.
After several misfires, the centrifuges initially clogged when first tested on the spill, the V-20 were successfully used in the spill but the actual results of the efforts are anyone's guess since no scientific results have been publicly released. The United Kingdom's Guardian newspaper calls the machine "a tokenistic effort at best, a distraction at worst," since it figures that it would take one V-20 about 6 billion years to clean up the Gulf of Mexico at its 200,000 gallons-a-day rate of purification process. Even if 6 billion years are divided by 32 machines, the likelihood that the devices made a significant impact in the clean-up of the last year oil spill is seriously doubtful. BP purchased the devices at a price tag valued at $500,000 each.