Stock Exchanges Emerge As the New Drivers of the Global Sustainability Agenda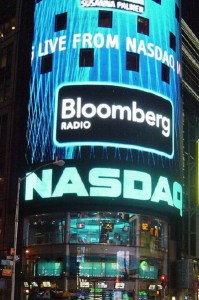 NASDAQ becomes the first North American Exchange to join the United Nations Global Compact
Moving from purely profit-driven investment strategies to ones that take into consideration environmental, social and governance (ESG) factors is a paradigm shift that can be seen not only in the behavior of individual investors and fund managers, but also in the creation of sustainable funds, investment vehicles and indices. The shift can also be seen in the fundamental ideological transformation of the world's stock markets into leaders of sustainability and corporate social responsibility.
"Stock exchanges are uniquely positioned at the intersection between investors, companies and regulators," said James Zhan, director of the Investment and Enterprise Division of the United Nations Conference on Trade and Development (UNCTAD). "As such, they can play a key role in promoting responsible investment and sustainable development."
As Mark Robertson of the responsible investment research firm EIRIS noted earlier this year:
"The sustainability strategies currently in use by stock exchanges and listing authorities around the world fall into three broad categories: 1) requiring that companies meet specific ESG disclosure requirements in order to list on an exchange – either initially or on an on-going basis; 2) providing sustainability products and services in the form of sustainability indices; and 3) creating markets for specialised products such as carbon trading or cleantech investment."
RISE OF THE SUSTAINABLE STOCK EXCHANGE
Just days before the offical start of Rio+20, the United Nations Conference on Sustainable Development (UNCSD), which took place in June in Rio de Janeiro, five of the world's stock exchanges—NASDAQ OMX in New York, BM&FBOVESPA in Sao Paulo, JSE Limited in Johannesburg, the Istanbul Stock Exchange (ISE) and the Egyptian Exchange (EGX) in Cairo and Alexandria—announced a commitment to promote long-term sustainable investment in their markets. The announcement was made as part of the Sustainable Stock Exchanges (SSE) 2012 Global Dialogues, held at the Corporate Sustainability Forum in Rio.
Together representing more than 4,600 listed companies in both developed and emerging markets, these exchanges have voluntarily committed themselves to promoting long-term sustainable investment and increased ESG performance and disclosure among their listed companies by collaborating with those firms as well as government regulators and investors.
"By encouraging companies to adopt good corporate governance practices where a social and environment dimension is taken into consideration, and by helping investors to make socially responsible decisions, the SSE initiative can enhance transparency of information as regards capital markets and help create more aware investors," said Edemir Pinto, CEO of BM&FBOVESPA.
OPEN FOR SUSTAINABLE, RESPONSIBLE BUSINESS
The SSE initiative was co-organized by UNCTAD, the Principles for Responsible Investment (PRI), the United Nations Environment Programme Finance Initiative (UNEP FI) and the United Nations Global Compact (UNGC), the largest voluntary corporate sustainability initiative in the world. Founded in 2000, UNGC boasts 7,000 corporate signatories from 135 countries committed to syncing their business operations with the broader goals of the United Nations. Established as an international multi-stakeholder policy platform, the compact specifically aims to align private sector strategies with universally accepted principles across the areas of human rights, labor, environment and anti-corruption.
"This is the first step of a larger global call to stock exchanges to publicly commit to promoting sustainability" explained Georg Kell, executive director of the Global Compact. "We take this opportunity to call on all stock exchanges around the world to join these leading exchanges in making this potentially transformative commitment."
NASDAQ: NORTH AMERICA'S FIRST UNGC MEMBER
NASDAQ OMX upped its sustainability ante when it announced at last month's LEAD Symposium in New York that it has joined UNGC. In doing so, NASDAQ, which hosted the event, became the first North American exchange to join the compact. Launched last year, the Global Compact LEAD is UNGC's platform for corporate sustainability leadership. The LEAD Symposium is part of UNGC's goal to integrate ESG communication and sustainability disclosure with mainstream communication to investors.
"We very much welcome NASDAQ's leadership role in committing to the UN Global Compact," said Kell. "We encourage other major global stock exchanges to help embed sustainability into financial markets and make the critical link between investors and companies in facilitating ESG communication."
"Around the world, stock exchanges, particularly those in emerging markets, have adopted a patchwork of sustainability approaches," writes Robertson. "There is a strong business case for stock exchanges to strengthen ESG disclosure requirements. This can provide new business opportunities and potentially increase revenues, safeguard reputation, maximise competitive advantage and mitigate operational risks."
FOOL'S GOLD: CHOOSING PROFIT OVER PEOPLE AND PLANET
In 1602, the Dutch East Company founded the Amsterdam Stock Exchange to deal in the firm's stocks and bonds. It is widely considered to be the world's first stock exchange. Perhaps it got a bit of its inspiration from Shakespeare's 1596 play The Merchant of Venice, set at a time when Venetians were Europe's leading moneylenders, who not only traded debts between each other, but also bought government debt issues and traded securities from other governments. (Today, "Merchant of Venice" is even the name of a stock market trading software program.)
As stock exchanges increasingly drive the corporate sustainability agenda around the world, more investors recognize that just because a company's stock may possess intrinsic financial value, that value can be undermined if the company behind it isn't responsible or sustainable. As Shakespeare duly notes in one of the scenes in The Merchant of Venice, "All that glitters is not gold."
###
NOTES
United Nations Global Compact. Rio+20: Exchanges Listing Over 4,600 Companies Commit to Promoting Sustainability. June 18, 2012. Accessed December 5, 2012.
Mark Robertson. How can stock exchanges drive the sustainability agenda? Green Economy Coalition. January 27, 2012. Accessed December 5, 2012.
Ibid., 1.
Ibid.
Ibid.
United Nations Global Compact. Global Compact LEAD Symposium Establishes Investors as Drivers of Sustainability. November 27, 2012. Accessed December 5, 2012.
Ibid., 2.
image: NASDAQ in Times Square, New York City, April 2004 (credit: Kowloonese, Wikimedia Commons)