Sustainability Marks International Day of Cooperatives in Portland, Maine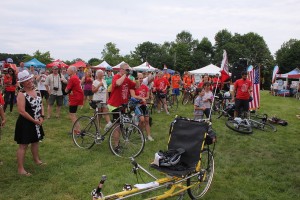 The UN established July 7 as the International Day of Cooperatives—which is why it was chosen as the grand finale of the 2012 Cabot Creamery Cooperative's 2012 Community Tour. Nearly a thousand people gathered at Payson Park to welcome bike riders who rode 2,300 miles from Miami, Florida to Portland in Maine over a period of two months. The riders were greeted by a crowd of well wishers, family and friends as well as local riders who accompanied them through the greater Portland area.
The Portland event marked the culmination of more than eight weeks of Community Tour celebrations all along the East Coast that featured eight major events in cities including Miami, Charleston Durham, Fredericksburg, Wilmington, New York City, Providence, and Portland, as well as dozens of smaller stops along the entire route. The event featured booths, activities and organizations for everyone from kids to adults and included a range of companies, organizations and artistic ensembles.
"All along the way, we spread the good word about cooperatives, celebrated communities, and honored volunteers for the work they do to make this a better world," Roberta MacDonald, Cabot's senior vice president of marketing, explained.
Of all the riders, three of them, Cathy and Myron Skott, and Bob Spiegelman, rode the entire distance of the 2,300-mile Tour. "We had an amazing time and we feel so honored to have been a part of the Community Tour," said Myron Skott. "We're a little tired but we'd do it all over again if we have the chance."
Athletes For A Fit Planet took care of the event's sustainability credentials and made it as "green as possible". It separated and recycled all event-generated trash and waste. The group handled nearly a quarter ton of waste comprised of 11.11% compost, 44.4% waste-to-energy items, and 44.44 single sort waste that helped reduce the event's carbon footprint and make it zero waste.
Image credit: Cabbot Community Tour