Sustainable Solar Lights Bring Hope to People in Developing Countries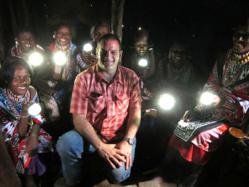 Around 1.3 billion in the world don't have access to modern electricity services and have to rely on biomass and diesel for fuel. This has serious implications on the environment and for the health of the people who are forced to resort to that kind of material since it involves burning, which results in toxic fumes.
Fortunately, several companies are working on portable solar solutions to help those people improve their lives and prospects with efficient, clean lighting. One of them is Nokero, short for "no kerosene" and which offers a range of solar light bulbs and solar phone battery chargers. The company was created by Steve Katsaros, who serves as CEO and chief inventor.
Besides doing good, providing solar lights to people who lack electricity makes business sense, too. Those people spend $38 billion dollars a day on lighting, or 30 percent of their income. Nokero has sold 400,000 lights in just two years since it launched, and is present in over 120 countries. The company has announced it will present a business plan to accelerate its growth and increase access to electricity for those who need it so much.
The most difficult part of it is last-mile distribution—that is, taking the goods from a transport hub to their final destination. Nokero has created a system to help distributors earn healthy margins and access ongoing dealer support. Consumers also benefit. The company carried out a study in Mexico and found that off-the-grid households who replaced their candles with a Nokero solar bulb saved an average of US$0.80 per day. In two days the family got their money back, freeing up funds for other expenses related to education, for instance.
In Belgium, O'SUN has created NOMAD, a portable light solution that besides being clean also looks great. It recently joined the Practitioner Network, a global forum for companies working to improve access to energy around the world. The initiative fits in with the UN's established goal of sustainable energy for all by 2030. The NOMAD LED solar light feature three lighting settings. Depending on how much brightness you want, it can shine from six to 35 hours. It also features a silicon disk that protects it from damage and its design makes its use very versatile – it can be placed on a desk, suspended or affixed on a wall.
Finally, the LuminAID solution was created for disaster zones. The uniqueness of this solution is that it is inflatable and it can charge completely with four to six hours of exposure to solar light. LuminAID was created by Anna Stork and Andrea Sheshta, two architects based in New York City.
Image credit: Nokero