The Power of Narrative to Promote Socially Responsible Causes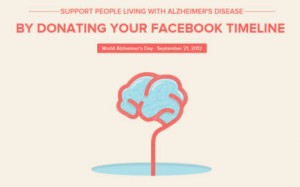 One of the most terrifying aspects of Alzheimer's Disease is the way it wipes out a person's past by deleting their memories. By doing that, the illness transforms a lifetime of experiences and achievements into a blank board.
In order to mark World Alzheimer Day, which was celebrated last Friday (Sept. 21), Alzheimer's Disease International came up with a novel idea: an application that slowly deleted portions of the user's Facebook timeline, albeit just temporarily. Status updates, photos and posts were erased and replaced with the message: "Imagine your life without memories."
This was a fitting idea to give people an idea of what living with this debilitating type of dementia can do to a person. Currently, 36 million people live with Alzheimer's Disease.
Another charity that is using the power of social networks to weave narratives related to the cause it advocates is UK-based WaterAid. The NGO is carrying out its Big Dig campaign and, to promote the campaign, field workers recount through images on Instagram what life is like for those who need to struggle for water on a daily basis.
Access to clean water and sanitation is a dream for billions of people in the world, so the work carried out by WaterAid and other organizations is absolutely vital to lift people out of conditions of extreme poverty.
The campaign focuses specifically on the plight of 134,000 people in Malawi, where one in eight children die before reaching five years of age and the average life expectancy is 52. The NGO is currently digging 34 new boreholes and 43 shallow wells, besides providing training for more than 2,100 hygiene educators, and building 20,500 latrines in schools and homes. The UK government is matching every penny donated to the campaign.
As people are increasingly faced with a barrage of information and myriads of NGOs fight for their attention, spinning stories with a human interest, with focus on individuals rather than on abstract masses of people, can prove to be a faster and more effective route to the public's hearts and minds.
Image credit: Cone Communications